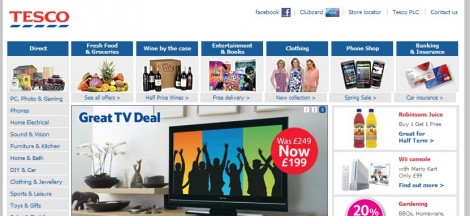 Use this Tesco promotional code to get £15 off a £65 order. It applies to new accounts only, and there's only two days left till it expires.
Click here to use your Tesco promotional code
Discount: £15
Minimum spend: £65
Promotional code: XXT4HM
Expires: 2nd June 2011
To use this code you'll need to go through checkout. And you'll need to register as a new account with a new email address. When you get to the third page of checkout – the Order Summary page – scroll down the page and click on the eCoupons or Promotion Codes button.
Type in the code, don't cut and paste. I tried pasting it in there but the site rejected the code. It only worked when I typed it in myself.
It is a high minimum spend, but then on a family shop it is pretty likely you spend that anyway if not more. I am continuously shocked at how expensive food is every time I go shopping. It isn't like I'm not willing to do a bit of shopping around, and I try to get the cheapest possible. I know that a 2ltr bottle of semi skimmed is half the price in Iceland than it is in Sainsburys. But even so. The other day I picked up just a few essentials  - milk, bread, some yoghurts, a bit of fruit. And it came to £8! How, how did that happen?
Thanks to goonertillidie at HUKD!