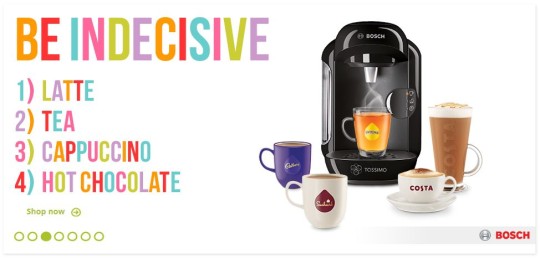 Coffee drinkers, raise your hands! How much do you spend on coffee in a week? Well, with this offer that can be reduced! I'm a massive coffee fan, and most of my 'wasted' money goes to Starbucks! I am really excited by this offer and am personally waiting for my delivery! The Tassimo T4 Fidelia Machine is on offer for £35 delivered, and using the code below you can take £10 off a £25 spend when you're buying the pods too. You also get 2 x £10 vouchers in the box to use in six weeks and four months, on minimum £25 spends, so you'll be able to stockpile till the next offer on pods comes around.
Grab your coffee for less from Tassimo
Discount:

75% off the price of a Tassimo machine

Voucher Code: TIMESTASSIMO
Buy Tassimo pods for £25 and get £10 back
Discount: £10 off £25 spend
Voucher Code: TASSIMO10
Apparently if you spend £35 on the pods you get free delivery, and use your code (TASSIMO10) so you actually spend £25, but get the delivery off. You can just take £10 off the £25 spend too though, but you'll pay delivery on your pods.
Also, some people have said that they have used one of or both of the £10 vouchers you get in the box with the Tassimo10 voucher and essentially get £30 worth of free coffee pods, with the purchase of £35 for the coffee machine (and £25 spend on the pods).
For this and other Tassimo Voucher Codes, visit our voucher page.
Thanks to UKBasedGuest and colderoeck at HUKD