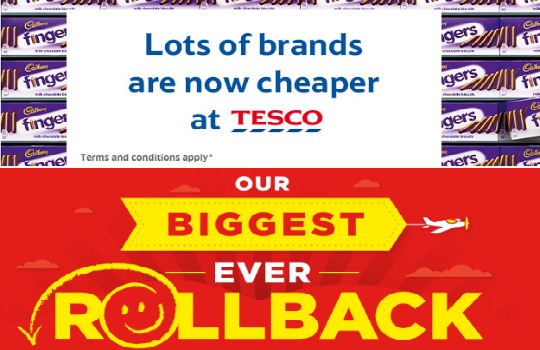 At this time of year money is tight for everyone after the expense of the festive season, so we were happy to see the announcements from three major supermarkets of price cuts, which should mean good news for us customers.
Today Tesco has announced it's turnaround plans in a bid to recoup some of the losses both in profits and reputation after it's terrible 2014. What it means for workers is not looking good, with 50 new stores put on hold, 43 closing, and sections like Tesco Broadband and Blinkbox being sold to Talk Talk.
The main thing that's going to affect almost all of us is the major supermarket price war that is starting.
Tesco have launched a big price drop today on everyday grocery items. Some of them are great like a Hovis Best Of Both Loaf for 78p, others are not so impressive - 2p off Twiglets and Toffifee is not going to convince anyone to come back from Aldi.
Sainsbury's have said that they are working to lower prices with a massive investment programmes that has seen them lowering 1000 prices since they launched this strategy in November. That sounds very impressive, but they are still more expensive than the other main three. Examples please Sainsbury's!
Asda also announced it's Biggest Ever Rollback and dropped prices too. They look to me like they're still winning the price war at the moment. That's because their reductions might be an awful lot of own brands but they cover basic items that we all use every day - Sugar for 49p, Bread for 50p, and a pint of milk for 45p. The frozen food reductions are great too with dozens of their own brands reduced from an already cheap £1 down to 85p. Saving money with every day items helps more than making an occasional treat cheaper!
So will these changes be enough to win anyone back from the discount supermarkets like Aldi and Lidl? We'll wait and see.