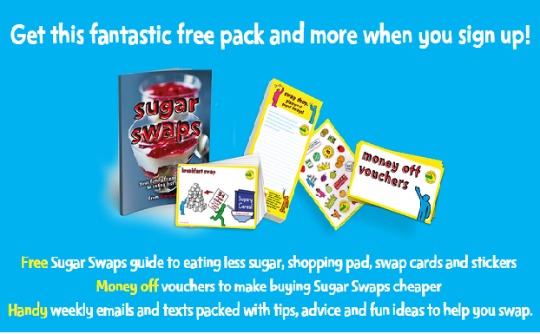 I think the majority of us can be guilty of eating too much sugar. I know I am, and I most likely let my children have more than they should too. It's hard though, with foods like baked beans for example, they contain around three teaspoons of sugar per tin. There's lots of foods that we eat that we would realise contain sugar. Change 4 Life have launched a Sugar Swaps incentive for residents of England only ( sorry Scotland, NI and Wales!).
When you sign up to Sugar Swaps, you will receive a Sugar Swaps pack from Change 4 Life. It will contain a Sugar Swaps Guide to help you eat less sugar, a shopping pad, swap cards and stickers. You will also get some money off vouchers to make sugar swapping cheaper.
To sign up, just click the link above and click the big green button that says "Sign Up Now". Fill in your details and you will get sent out your FREE Sugar Swaps pack.
For Scotland and Wales, you cannot benefit from Sugar Swap, but you do have your own versions of Change 4 Life. Change 4 Life Wales and for Scotland there's Take Life On.