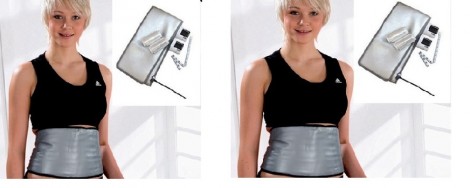 Recently I got the Rio Sauna Belt from 24Studio for review. When I first opened the kit I have to admit to being a little terrified.
There are two rolls of clingfilm, two tubs of blue jelly called "Accelerator Gel", and a huge pack that needed to be plugged in. The Rio Sauna Belt promises visible results after only one use so I used the included tape measure to see what I measured before I used it.
Then I liberally applied the Accelerator Gel. Note: keep a towel or cloths close by, only wear a bra or sports top, do this in private. Once I'd managed to de-sticky my hands and top, I had my husband wrap me in clingfilm.
The instructions say it has to be quite tight but the problem we had was that the special film kept rolling up into itself. Now, I am not that big, so anyone over a size 12 will have a real problem here. It hurt and took some practise to get right.
The Rio Sauna Belt goes right up to your breast-line. Then it says you must not bend while the belt is on. How? It took quite a bit of manoeuvring to get myself seated and I was worried about burning myself or something.
I sweated and steamed for 40 minutes. It is very hot on the low setting. I lost half an inch but it is pure water, really, so I don't feel that it really counts. Overall it was an interesting experience that did have visible results, yes, but these are not long term results so perhaps this is something for emergency waist shrinkage before squeezing into a party frock.
The Rio Sauna Belt is retailing for £39.99 at the moment and can be used on your stomach or thighs. I think it is a great tool for emergency weight loss, not for permanent results.