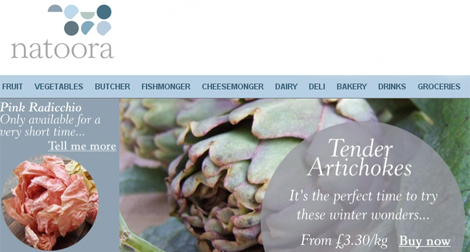 *Disclaimer* PlayPennies cannot be held responsible to the damage done to your waistline if you use this Natoora promotion code.
Click HERE to drool over to Natoora
Discount: £10

Minimum Spend: £50.00

Promotional Code: FEB10OFF

Expiry: 27 February 2010

Never heard of Natoora?  Well let me enlighten you!
Sometimes Tescos, Asda and even Waitrose just don't have those special 'scrummy  somethings' that you want for a special night in for one, two or maybe a dinner party.  Natoora do and BOY do they do it in style too!
I will try and sum them up and what they have to offer in less than 1000 words but there is SO much!  At their core is a passion for natural foods of exceptional quality and this belief:
"We believe that food is more than just fuel; it is something to be enjoyed, relished, celebrated, and most importantly, eaten!"
Even with so many things to choose from, the Natoora website is v e r y easy to navigate - everything is split into ever- more-specific sections: fruit, vegetables, butcher, fishmonger, cheesemonger, dairy, deli, bakery; the list just goes on and on!
Then on top of that there are the special offers, what's new, weekly picks, easy eating (like I need any more help with that!) and recipes sections.

I can't even begin to narrow down super-scrummy things to show you, click on the links above and even that will be enough to have you wanting to blow your weekly shopping budget with these guys!
OK, so expensive for weekly shopping (but admit it you would if you could - well I would!) but perfect for special occasions - there is a minimum spend of £40 and you need to spend over £50 for the £10 discount to kick in.
There are a whole range of delivery options available, orders over £80 qualify for free delivery and a buffet of different delivery charges for orders under that.
Go and have a look around and prepare to drool over some of the most wonderful foody-treats you'll have seen for a while.
Thanks (I think!) to Edi over at HUKD!