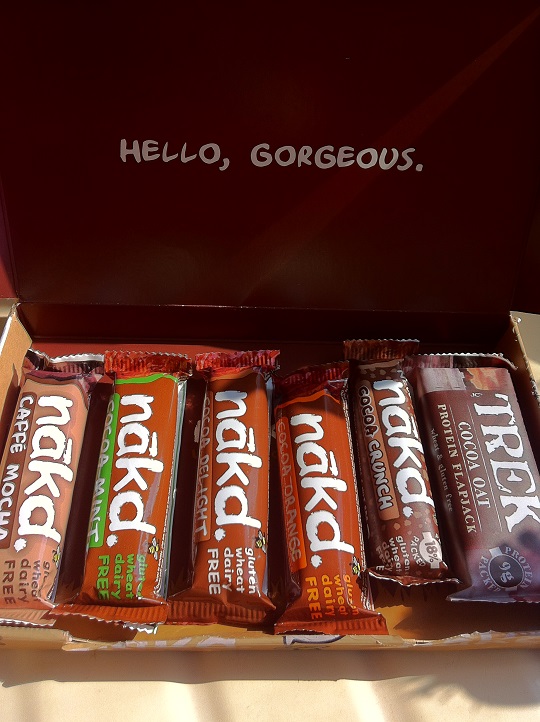 You have to read this review. No, seriously, I mean it. I don't usually start my reviews like that. Normally, I try to be more impassive, more objective. This is what we are looking at and this is why, now read on to find out more.
But I can't start this review that way because I can't be impassive. These are the best snack bars I have come across. Ever. You see I have this problem in that I can't eat wheat. So that limits me when it comes to convenience foods. As does that fact that I am cautious about additives.
I'd seen these Nakd Bars around, but I'd sort of dismissed them. They looked like the sort of overpriced, gaggingly awful bar that people force themselves to like because it is better for you than a Snickers. All the time ignoring the fact that it is loaded with sugar.
Except as it happens, these aren't. There's no sugar, no syrup, and no gluten (that is no wheat). The bars are vegetarian, vegan, and dairy free too. But the one thing they are not is taste free. Sceptical and thinking that I've finally lost it and turned into a marketing tool for 'the man'? Well think again, and read on!
I received five Nakd Bars to try out, and a Trek Cocoa Oat Protein Flapjack. These bars are made by Natural Balance Foods, a British company that wanted to make snack bars without all the stuff you find added to conventional cereal bars.
They have two ranges, Nakd and Trek. All of the bars that I received had one thing in common. Yummy yummy chocolate. But without all the sugar that you get with a chocolate bar. A good alternative for Easter next year perhaps?
You can buy the bars in cases of 18 on the website. For the first one I tried, the Nakd Caffe Mocha, this works out to 77p a bar. Alternatively the bars are sold individually in all the main supermarkets for around the same price.
Also in common with the other bars in this range, the Caffe Mocha is not baked. It is cold pressed. I spent a while trying to figure out where the English ingredients list was on the packaging before I realised that I was looking for a long list of stuff with words like emulsifiers and stabilisers. This bar has 55% dates, 26% cashews, 12% raisins, 6% cocoa. All the bars have these same four ingredients, just with different amounts. The only other thing different is that each has a 'hint of natural flavours'. It is raw food but it doesn't taste raw. It tastes like cake.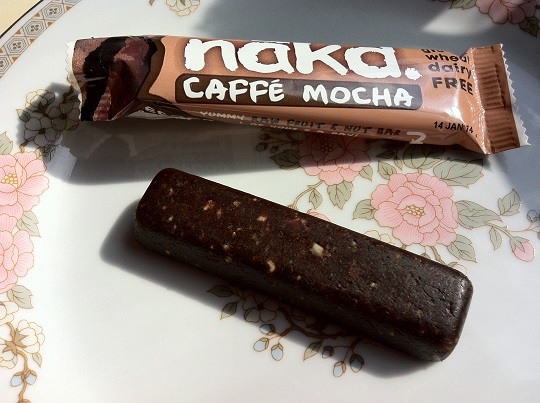 I love love love coffee cake, and that is exactly what this bar tasted like. Delicious coffee cake.
Next up I tried the Nakd Cocoa Delight, a fruit and nut bar. I don't know how, maybe it is the way the raisins and dates are pressed, but this had a kick to it like a rum and raisin cake.
Then there are the Orange and Mint bars. Neither of these are flavours I like to put with chocolate so I left them to last. And you know what? They go great with cocoa! As I am writing this I am fantasising about the Mint bar, the way it tasted like it was made with mint fresh out of the garden.
Nakd Cocoa Crunch is a slightly different bar. It has the flavour and consistency of the Nakd range, but the Crunch range is crunchier, and crispier. More like a cereal bar might be, if it were a cake!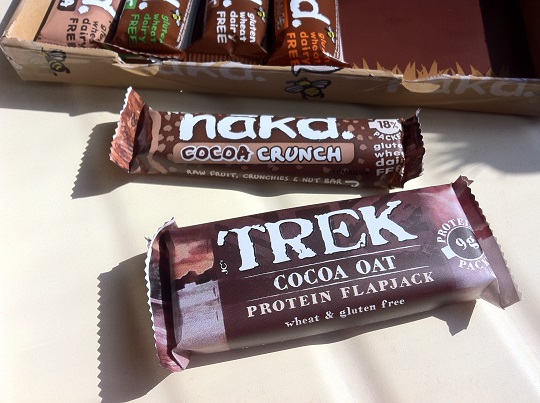 Finally I scoffed down, er I mean I politely ate, the Trek Cocoa Oat Protein Flapjack. This was crunchier than I expected from a flapjack. It has a cocoa coating on top,which is a chocolate-like yummy covering. I like it but I wouldn't buy one unless I was planning a day walking somewhere. It is perfect for trekking!
Pros: absolutely delicious, raw food, natural ingredients, one of your five a day
Cons: there's about 5.5g of protein in these bars, which is good as part of balanced diet. Just don't do what I did and eat an entire box of six in one sitting because they're so good you just can't resist yourself.
Overall verdict: 10 / 10