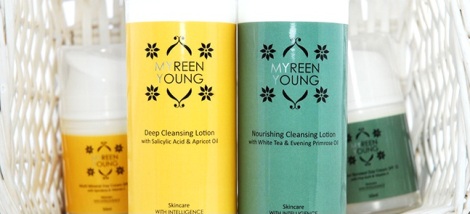 I recently reviewed the Myreen Young Firming Brightening Serum and discovered that I'd read the instructions incorrectly. It was supposed to be used in conjunction with the Myreen Young Cellular Renewal Day Cream.
So, I duly started to use them both about a month ago and these are the results. The Myreen Young Cellular Reneway Day Cream includes Pine Bark which has, apparently 45 times more wrinkle fighting properties than CoQ10.
The combination of pine bark and Vitamin A are designed to increase circulation and blood flow, encouraging elastin renewal and protection of mature skin.
The cream is lovely. It doesn't have an overpowering scent but does smell fresh and yummy. Like with the serum, you only need one squeeze of the applicator for enough cream to cover your face, neck and décolletage.
The cream is non-greasy, absorbs quickly, and feels smooth. It made my skin feel wonderfully soft and fresh. I have to say that I really liked this cream and will probably continue to use it. It costs £19.95 directly from the site and has lasted me over a month already, with still some remaining in the bottle.
I think that in terms of value for money and quality, this product ticks all the boxes. I have also used it in conjunction with the Myreen Young Firming Brightening Serum so I could redress the issues in my previous review.
The serum still left my skin feeling stretched and tight, I'm afraid. I used it straight after the cream, and after waiting for the cream to absorb. In both cases it felt the same. This tightness wears off after an hour and the serum still makes my skin look fantastic, but I noticed no difference between applying it without the cream and with the cream.
Edit: Myreen Young got in touch and let me know that I was supposed to put the serum on first, and then the day cream. So, dear readers, I am a bit of an idiot with this one.