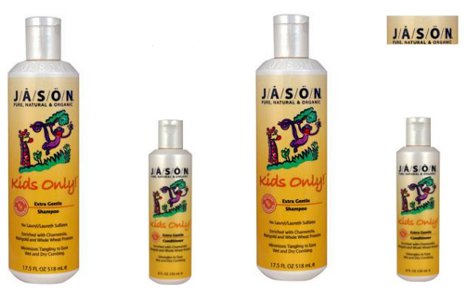 We've been trying a new shampoo and conditioner recently in a bid to save a few pennies without compromising on organic and natural ingredients for my daughter's sensitive skin.  We've been using the Kids Only! range from Jason.
The first thing I noticed about the Shampoo is that it doesn't contain Lauryl or Laureth Sulfates, which is really important to me as it's something my daughter reacts to. Confusingly, it does contain Sodium Lauryl Sulfoacetate, which despite the similar sounding name is believed to be more skin friendly as it is made up of larger molecules, meaning it doesn't penetrate the skin.  It's also this SLS that makes it a foamy product.
Enriched with Chamomile, Marigold and Whole Wheat Proteins, Jason Shampoo has an incredibly sweet smell, that kind of makes me think of blue bubblegum for some reason – which is fine in a kids shampoo.  Apparently it has the same pH balance as tears, so shouldn't sting the eyes, which is ideal for use with a squirmy toddler. I must admit, I've not actively tested this theory as that would be a bit cruel.
The conditioner smells, if it's possible, even sweeter than the shampoo, and has detangling powers, which is fantastic as my little girl has a head full of curls!
After use my daughter's hair is springy and light, and while there are remnants of that super sweet smell, it's not as overwhelming as it is directly from the bottle.
While these have natural and organic ingredients, they're not the most natural on the market, but a darn side better than many others, so I think they're worth trying if you have a child with sensitive skin. Added to which it's quite a lot cheaper than many other organic brands.