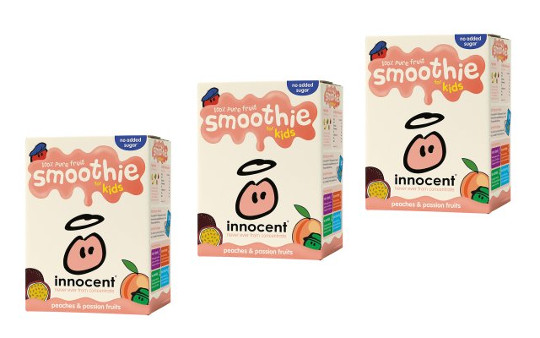 Tesco is selling four 180ml Innocent Kids Peaches and Passion Fruit bottles for £1.49, instead of £2.99, so a nice half-off offer if you're a regular buyer.
Innocent Smoothies for Kids are a blend of whole crushed fruit, pure juice and nothing else. They don't contain added sugar, sweeteners, e-numbers, or concentrates.
This offer is on the peaches and passion fruit flavour, which sounds rather yum.
While pouches and sachets and bottles are by no means the cheapest way to get fruit into children, or even have snacks on the go, they can be so helpful! We have a variety in our 'snack box' for when I haven't had time to make anything. These would make a special treat for snack time, and they cost a lot less than buying Innocent Smoothies in coffee shops while we're out and about!
Thanks to Pupa at HUKD