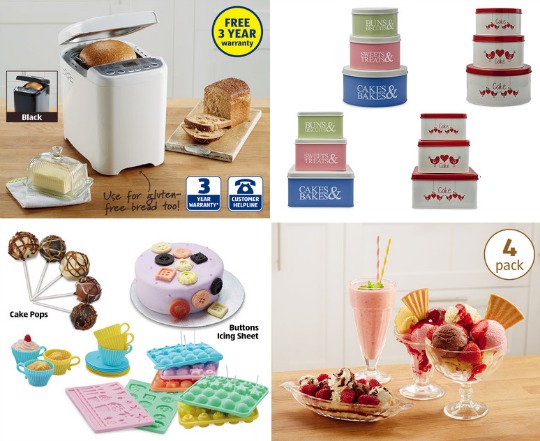 We know there are lots of you who enjoy baking either with the children's 'help' or without, and from next Thursday there are a lot of great value baking supplies coming to Aldi stores.
If you like making bread, jam, cakes, or just whipping up a quick ice cream treat then there are lots of goodies you might like to take a look at.
They will have a Bread Maker for £29.99, a Hand Mixer for £14.99, and a Maslin Pan for £19.99 which I am informed is essential for jam making. As it happens Aldi will also be selling just about everything else you might need to make your own jams including the jars and the jam sugar, so my Nan will be over the moon! (Blackberry please Nan.)
If cakes are your thing then there are cooling trays, storage boxes, cake pop moulds, frosting, cake mixes and more.
What about the Ice Cream fans?! Well you can get an Ice Cream Maker for £14.99, as well as all the cute vintage style glass bowls and glasses to serve it in. Plus sauce, toppings and even a waffle maker so you can make a special waffle sundae like they do in Ben & Jerry's!
I'm getting hungry just thinking about all of these sweet treats. Aldi special offers are in store only, and will be subject to availability. See you there!