As a parent I'm always looking for good, healthy and delicious snacks for my children, especially if they make things a little more convenient on days where I don't have time to polish my super-mum badge and, you know... press my own juices and make my own smoothies. On days like t hat it's nice to find options for juices that don't have more sugar than Coke, or chock full of additives, or my biggest pet peeve in children's foods and drinks, artificial sweeteners.
Instead, it's nice to be able to reach into the cupboard and pull out something like Happy Monkey Smoothies and Milkshakes.
We were sent four different packs from the brand to try, and my kids absolutely loved them. Seriously, I had to hide one sample from each pack so that I'd have a chance to taste them to write this review. And my daughter asked me almost daily if I'd written my review yet, so she could have what was left.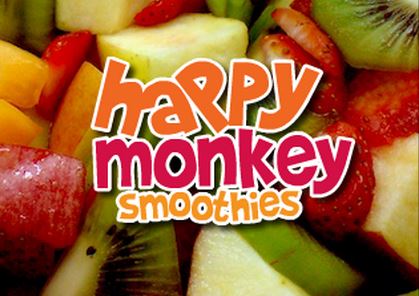 Happy Monkey Smoothies are 100% fruit and each smoothie is one full portion of fruit, with no bits. And for the environmentally conscious among us, all Happy Monkey bananas also come from Rainforest Alliance Certified Plantations.
Happy Monkey Smoothies don't come with more than a few months' shelf life, which is of course, actually a good thing - it means it's not full of preservatives.
The 180ml juice cartons come with a straw and an angled insertion point, so you can give it to your little ones on the go with minimal spillage, unless they squeeze too hard, like normal.
The Banana and Strawberry flavour is really lovely, it's fresh and has a really good flavour. The main thing for me about this, because I'm not crazy about banana, is that it doesn't have an overwhelming banana flavour. In fact there's apple, banana, strawberries and raspberries in this drink, in that order, and it makes for a smooth and refreshing smoothie, and one that I'm totally fine with my kids having.
One thing, however, in it's current form is that it is quite strong. I don't tend to give my kids fruit juices straight, but prefer to water it down - better for their teeth, for one thing. I do sometimes open these though, pour into drinking bottles, top up with water and head out the door. Doing it that way does stretch it to two or sometimes four drinks from one carton.
The Orange and Mango flavour is just as tasty, but it does actually only have 1% mango in it, which as a big mango lover I found a little disappointing as I couldn't actually pick it out at all. It's still a delicious drink, and the added apple, banana and pineapple juice made the orange less acidic. Don't get me wrong, I think it's a very tasty drink, but I think it should have a bit more mango in it to be one of the headlining flavours.
Next up is the Happy Monkey Milkshakes.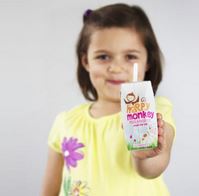 Well... what can I say. These are a treat for me. Never mind my kids!
And they are made from skimmed and whole milk, and sugar and cocoa/strawberry juice/flavour. So these aren't as 'good' for you as the smoothies - they do have some flavours and some preservatives in them, but you would expect that from cartoned milk products. The strawberry flavour is very sweet, and the smell hits you the moment you pierce the silver foil with the straw. It's like candy floss sweet. Still tasty, and you don't have to have very much, but yeah. Sweet. And tasty, and definitely more of a treat than a regular thing, despite the fact that their website says that they are school approved.
I do really like that they contain sugar though, rather than sweeteners like Aspartame.
Happy Monkey is available in all the leading supermarkets, and Ocado online too. The smoothies are £2.99 for a pack of four, which I think is quite expensive when you compare it to crappy sugary drinks, but compared to other healthy smoothies it's pretty comparative.
The Good
The smoothies are, or at least seem to be, a healthy drink. They are definitely strong enough to water down, stretching them a little further - or milk down in the milkshakes.
The packaging is colourful, fun and engaging. The kids love them.
For on the go, on the run supplies, they are great.
The Bad
I've kind of listed the little things in the post already. There's no bad points, as such, just preferences.
The Verdict  
What's not to love. Happy Monkey makes my monkeys happy. They love the stuff. I think it's great for those days my halo isn't polished.
Where
Why