Haliborange And Multibionta Review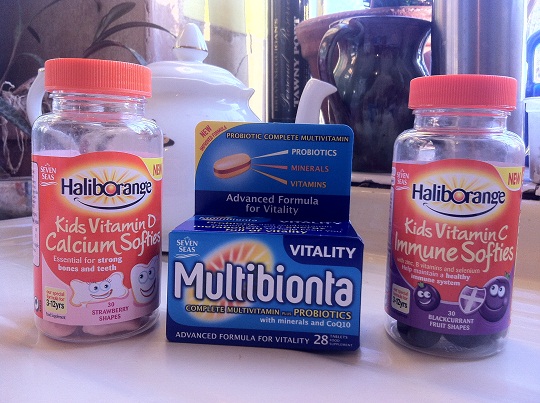 It is that time of the year. Winter is finally over. I hope. Wasn't it a long one though! I don't know about you but our entire family is pretty run down usually by about now. This is the first year I have thought seriously about using vitamin supplements. Particularly vitamin D given the huge lack of sun we've had.
Seven Seas sent us three of their new range to try out. For kids there's their new Softies vitamins. And for us adults, Multibionta Vitality. The nifty trick to the softies range is they're pretty much like eating Haribo, the soft sweeties like the fried eggs. Definitely my favourites. Making it much more likely they'll try them. So, did they work? Are we a perky, happy, healthy family? Read on to find out!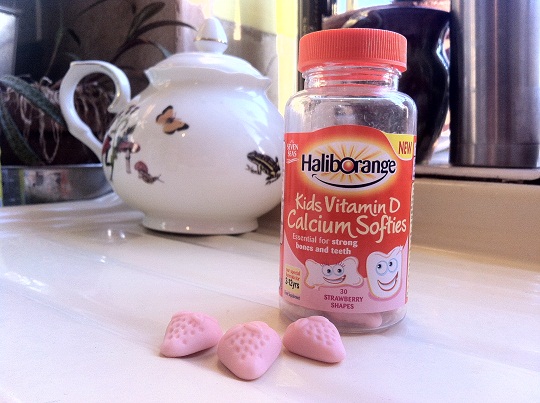 Kids Vitamin D Calcium softies
The Kid's Vitamin D Calcium softies (£5.10 for 30 chewable tablets) are strawberry flavoured, and shaped, calcium and vitamin D supplements. The texture and sweet taste are meant to have more of an appeal to children. And they certainly do taste like a sweet. They also have a soft, gummy texture like a Rowntree Random. There's a definite taste of strawberry but it is a gentle flavour. Not too strong.
There's no problem at all getting children, or grown ups for that matter, to have one of these. The only problem is making sure they have just one. I have to admit there were days when I really fancied something sweet, and grabbed a couple from the bottle! But don't tell the kids.
Vitamin D helps the body absorb calcium, but we usually get vitamin D from exposure to sunlight. There hasn't been a whole lot of that lately, so this was one supplement I was particularly keen to try out this year. You get 100% of the recommended daily allowance of vitamin D, and 31% RDA of calcium, per chewable tablet.
These are an excellent way to get extra vitamins into a child who might be reluctant to take other types of supplements. Since taking this, and vitamin C, we've not had any colds, sniffles, flus or stomach bugs in the house. Usually at this time of the year when it is still cold and we're all so run down it is just non-stop sickness. The only thing stopping me from giving it a 10 out of 10 rating though is the price. This is a lot for just 30 tablets.
Overall verdict: 9/10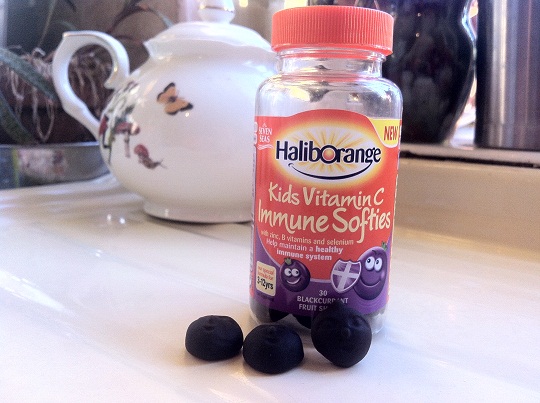 Kids Vitamin C Immune softies
Everything I've said about the vitamin D softies can be said about these as well. The only difference with the Kid's Vitamin C Immune softies (£4.99 for 30 chewable tablets) is the flavour. These ones are blackcurrant in taste, and shape.
Soft, blackberry shaped gummies, these are also a bit like sweets. Not at all strong in flavour. I quite liked them, and I don't like blackberry flavour normally. So if your child doesn't, don't let this put you off.
The main vitamin in this supplement is C, which you'll get your recommended daily dose of. There's also amounts of zinc, B vitamins and selenium, all of which are meant to help boost your immune system.
Do they work? Well we've had no scientific testing done obviously. All I can say is that there was no difficulty in getting everyone to take one of these a day (the difficulty is in getting them to stop at one) and we have all been pretty much virus free for the last month. Still, at just under a penny less than a fiver, these are expensive vitamins.
Overall verdict: 9/10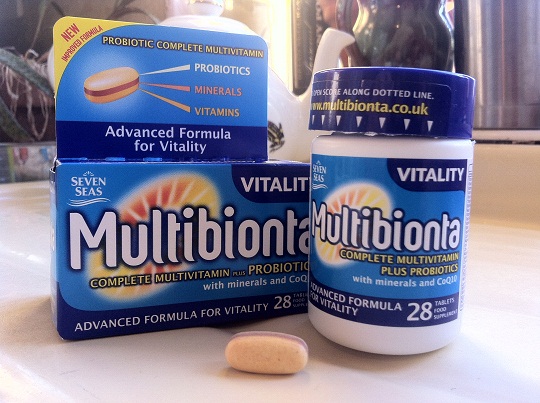 Multibionta Complete Multivitamin Plus Probiotics
This last one is for the grownups in the house. We need our energy too! And after that long, long, long winter we probably need a bit of a boost as well. That's where the company is aiming Multibionta Complete Multivitamin Plus Probiotics (£5 for 28 tablets).
So while the kids (and sorry, yes, I couldn't resist. I had some too, they're too yummy) were getting a boost from the softies, I was taking what looked like a really tiny hot dog every day.
Probiotic Nutrients are natural friendly bacteria, which exist inside the body and help to maintain a healthy digestive system. Working in harmony with the body, Multibionta also supports the immune system to help you cope with today's hectic lifestyles.
According to the website. I didn't really feel any extra energy at all to be honest. Mind you that could have something to do with the endless grey days and rain. However, like the kids, I didn't get any colds, flus or sniffles. The only person who has been sick in the house is my husband, and he didn't take any supplements! That's not really scientific I know, but it works for me. I'll definitely use these again. I would probably shop around a bit for a good price though.
I've marked this one down a little because I felt rather jealous of the kid's yummy softies. Even playing Land of the Giants with my little hot-dog like pill didn't make up for that!
Overall verdict: 8/10