Gymcube Home Exercise Review

I'm sure we've all done it at some point or another: sign up for a gym membership, love every second of it for about two weeks, and then, just as results are starting to show, we go away for a few days, get sick, or just plain lose interest, and before you know it, you're paying a monthly membership fee for the privilege of feeling guilty every time you think about it. Unless you're one of those who actually did make it to the gym often, but then life changed - you had a baby, for example - and can't actually get there or afford the daily child care charge. There are so many reasons why we all start out with good intentions, but just don't follow through.
So we think maybe we can do it at home, and we buy a DVD which was start following. It goes well at first and then, sooner rather than later, we stop doing that too. For me it's the routine. Following the same steps each time. It's really boring and I lose interest.
Is all hope lost, then?
Well, no. There is hope, and it's called GymCube.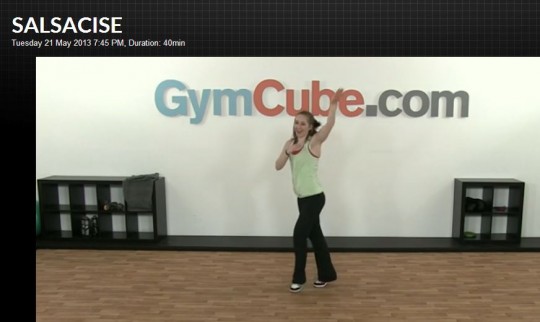 GymCube is a revolutionary new website, the first of its kind to use state of art streaming technology to bring LIVE and On Demand exercise classes straight into your home, office or hotel, on any internet enabled device.
GymCube offers a free 30 day trial, after which you pay £5.95 a month - hugely cheaper than a gym, and you can cancel at any time, so no contracts to tie you down.
They also offer two 'services': there's a gym time table, so you can join in with live classes as they're happening, or if you can't make a particular class, you can go to the 'Anytime' tab and look through the archive section for the class you want.
If you want to follow the same class five times, you can. If you want to follow a new one every day, you can. If you want to set yourself a schedule that's part live and part anytime, you can do that. Essentially, you can follow any program, anywhere.
As a mum with two children, I can see the massive benefits of this product. The ability to schedule exercise for when the children are sleeping, or plan on doing things around them is huge. It actually removes loads of the excuses or not exercising. Additionally, with any of over 300 exercise classes, ranging from circuit training to yoga, to latin dance and Pilates, you're spoiled for choice.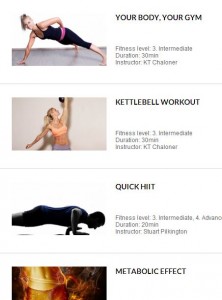 Gymcube also offers the specialist exercises for expecting and new mums with pre/post natal expert Cherry Baker teaching simple and easy during and after pregnancy classes.
The one area where I feel Gymcube falls down a bit is with children's classes. While they do have a 'kids dance class' exercise session, it's more aerobics than dance and caters more for older children. When I was a new mum in London I joined a specialist mum's 'club' where we had daily exercise programs that included our little ones. There was mum and baby yoga, mum and baby pilates, even mum and baby salsa with the little ones in slings. I've attended toddler yoga sessions that give mums light exercise, and dance classes for both mums and toddlers, getting them all jumping and dancing. Even kids Zumba is something you as a mum can do with your child - it's aimed at them, geared for them, engages them, but exercise is exercise and you can do it with them.
I really feel if GymCube could offer some of those sessions, they'd have a huge draw for mums of younger children, who are really the ones who find getting to the gym tough. My three year old found the Kids Dance Class a little above her level and I suspect it would be better for a 5- 8 year old.
While I still think it's a fabulous system and actually think it's worth it - even just for those rainy afternoons where you need something to help burn off children's energy! - they could add some toddler appropriate classes and have a gold-star product.
The Good
Ease of use

Quick signup

Ability to exercise wherever you are

Freedom to select your own programmes and schedule

Easy to follow instructors

Access from any internet connection

Exercise programmes appeal to large variety of audience

Some classes require equipment, like weights, but many don't. 

The nutrition tab has interesting information and recipes to try.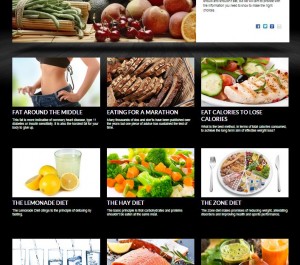 The Bad
Sound quality sometimes comes and goes, but it doesn't hinder following the programme

Limited range of programmes for or with children
The Verdict
I think this is a fabulous idea, ideal for mums or people who travel a lot. You can use anything with an internet connection to access and could even work out with headphones so you're not disturbing anyone. The cost is really not bad, compared to a gym membership and if you find you're not using it, you can always cancel at any time. That is a big draw for me. I'd love to see them add more things for children, but in the meantime we'll just 'exercise' to what's available.