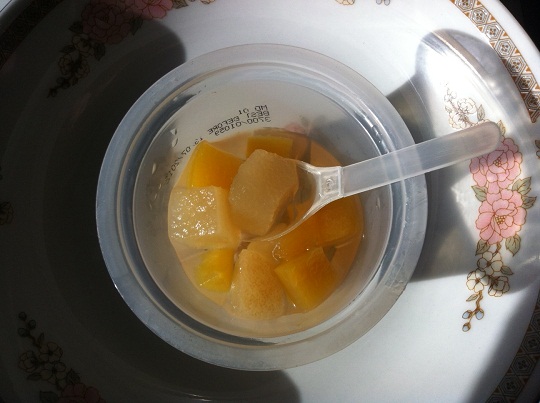 This is a nice little idea, and one that I think I'll find handy in the summer months. Fruity Pots (6 for £2)are kind of like a fruit equivalent of yoghurt. A fruit salad snack in a little pack that's perfect for lunch boxes, picnics, and just throwing in your bag. As the website says, they're great for kids, but not just for kids.
Since my son won't eat anything like them, I tried one out for myself. Incidentally the photo above shows my pot, which I'd already half eaten before it occurred to me to write a review. You do get more fruit than that!
I got the Peach and Pear Fruity Pot, two of my favourite fruits. Delicious. The pear chunks were sometimes soft and juicy, and sometimes crunchy and juicy. Just like real pears. The peaches didn't have a strong peachy flavour, which was a shame.
The pieces are in fruit juice, according to the package. From the ingredients there's nothing in there except fruit, fruit juice, some citric acid, and ascorbic acid. Even so, this is fruit, so it is still loaded with sugar. Per 100g there's 12g of sugar, which means that in these little 113g pots you've got the fructose equivalent of just over two teaspoons. Still it is one of your five a day, which makes it a really nice little dessert for afters.
What I liked as well is the little spoon that comes tucked inside the cardboard package. The handle clicks into place, and there you have it, a foldable teaspoon. It un-clicks again, so I plan on washing mine and reusing!