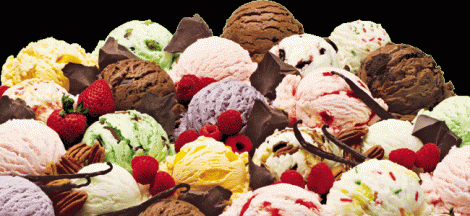 Summertime, yay! Sunshine. Hot weather. It all adds up to one thing. Ice cream!
Two of our mums, Sheona and Kat, convinced me that it was well worth having a go at making my own ice cream. For three reasons: to save money; for the superior flavour and finally, because it is fun to make.
Sheona doesn't eat the shop bought stuff anymore. "I don't really like ice-cream that much, and where I live it is choc full of fabulous Italian ice-cream shops (there are at least four in our tiny town) so for me it's more about knowing what goes in it, and picking out the flavours. My other half is the one who makes it, and he seems to have fun."
The basic recipe for ice cream is milk, sugar, and some flavouring like vanilla extract, crushed mint leaves, pure chocolate, and so forth. Which cuts down on the additives my kids will be eating!
There are two ways to make your own ice cream. You can either use a machine, or not use a machine. As we promised last week, here's all you need to know.
Ice cream in a bag
The ice cubes and bag method sounds fab, and a quick option. To see what I mean, click here to see the recipe being made in a short video.

You will need two plastic bags. One big enough to hold the bag with the ice cream, plus ice and rock salt. Put the ice cream mixture in the smaller bag, tie it up or seal it. Put in the other bag and shake for three minutes. Voila, you have ice cream!
Ice cream in a tray
The other option is to use the freezer. Mostly recipes for this use a large baking tray that you pour the mixture into. And it is a bit labour intensive. The key is, as mum Sarah points out, "to keep stirring. Put it in the freezer for a bit, take it out, stir to break the ice crystals, back in the freezer, and repeat."
If you want to try out one of the more traditional custard based ice creams for a dinner party then check out this yummy recipe. David Liebovitz also includes some excellent guidelines for making the ice cream on his site here.
Ice cream in a jar

But, that's not the method that I used! Oh no, indeed. I found this recipe here, which is an unusual take on the traditional tray in the freezer method and way more fun.  It is (cue trumpets) ice cream in a jar!
Now one of the joys of making ice cream yourself is that you can use special ingredients that normally add a premium to the price of store brought ice cream. Such as non-dairy. As my son's friend is vegan we decided to make some ice cream using soya milk.
Actually, my five year old son did this and loved every second of it. You just measure out a cup of milk, some sugar if the milk's not already sweetened, and a half teaspoon of vanilla extract (don't use the essence, you don't get the same sort of flavour). Put it in the jar, then shake. It goes in the freezer and gets shaken every 30 minutes. Although my son wasn't able to wait that long. Plus he had to have little 'tastes' along the way to make sure it was going OK!

The end result was simply delicious. I can't remember the last time I had ice cream this yummy and it wasn't even dairy ice cream. Towards the end I had to take over the shaking as it was too thick for my son to manage. And if you think Haagen Dazs is hard when it comes out of the freezer it has nothing on home made stuff. So allow a little softening time in the fridge.
Ice cream machines
Making ice cream by hand is only one option though. Most of the DIY ice cream afficienados that I spoke to amongst our readers preferred to use a machine. The response of mum Rebecca when I told her what I was doing probably sums it up "Wow, you are MAD making it that way. I did it once, years ago, but prefer having the ice cream maker!"
Sheona agrees, and points out you don't necessarily have to spend extra to get one either. "For ice-cream you need an ice-cream machine. They usually consist of a thing that looks like a mixer (or is a mixer, we use our Kitchen Aid) with a bowl. The bowl is very thick-looking because it is filled with a gel. The bowl lives in the freezer until you need it. The gel defrosts slowly, over the time that the mixer stirs the ice-cream mix. Then you have to freeze the ice-cream for 24 hours before you eat it. We only eat home-made, and our ice-cream bowl came with the deal we got on our kitchen-aid."
A machine can be bought for less than £50. I found these two half price deals while writing this. An Indulgence by Mistral Soft Serve Ice Cream Maker at Argos for half price, £15.69. And this one at Robert Dyas  marked down from £39.99 to £19.99.
And finally
My cheap and cheerful, and healthy, tip for cooling the little ones down over the summer is to get some ice lolly moulds and fill them with fruit juice. My son loves them and thinks it is a treat that he gets to have an ice lolly at breakfast time!
If you try out any of these recipes, let us know how you get on! Also, what inexpensive ways to you help your kids cool down when the weather gets hot? Please share!