Earth Friendly Kids Review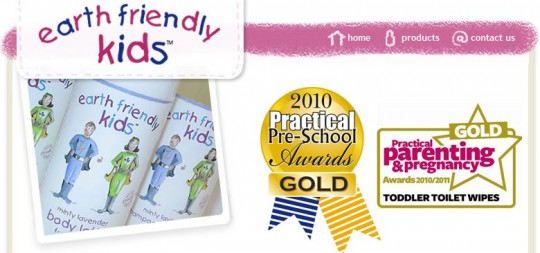 Whenever something comes into PlayPennies HQ with any kind of eco or environmental bent, I tend to find it on my desk – which is perfectly fine by me!
The latest goodies to come my way were from the Earth Friendly Kids range.
Earth Friendly Kids products come in two aromas: Minty Lavender and Zingy Citrus.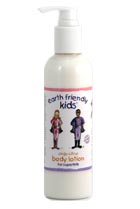 I'm not a citrus fan, normally, and didn't think I'd be keen on the Zingy Citrus Body Lotion,(£4.99) but actually I found it a really nice change from my normal lavender based products. It's a really refreshing fragrance, and while it's quite powerful initially, it fades as it draws in to the skin, which it does quickly, leaving you feeling refreshed and very clean, even though cleaning isn't its aim.
The body lotion has a huge string of ingredients, including a favourite of mine – calendula – and clove as well as Angelica, and Vitamins C and E, so all products that are good and healing for the skin.
It comes in a pump-action bottle, which is ideal for children as there's less room for mess as it's a bit harder to get out than in a pot.
The body lotion absorbs quickly and doesn't leave your skin feeling greasy, which is great for kids too as my daughter loves applying it and rubbing it in, but won't sit still long enough to avoid oily marks on everything if a cream takes too long. It also leaves your skin feeling really moisturised and soft.  It's not overly rich, which makes it suitable for children too, and it probably won't last all day, but it's perfect for after hand washes, dishes and so on.
The most memorable thing about the Zingy Citrus Body Lotion, however, is how fresh and open it leaves your skin feeling.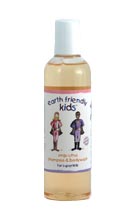 We also tried the Organic Mandarin Shampoo and BodyWash (£3.99)which won a silver in the Mother and Baby Magazine Awards for most eco-friendly product and comes in a recyclable squeezey-top bottle.
Earth Friendly Kids state on their website that they don't use any Sodium Laureth Sulphate (SLS) in their products, which is great as SLS was actually designed for engine degreasing, but you find it in most mass-market baby products and it's known to cause eczema. They do, however, use Sodium Lauroyl Lactylate in the Shampoo and Bodywash.  SLL is derived from sodium salt of lactic acid and as far as I can tell in my purely unscientific research, there are no hazardous side effects from it.
Mandarin Shampoo and Bodywash is hypoallergenic, and with over 70% certified organic ingredients, it can be called an organic product and is also certified as suitable for vegetarians as it's not tested on animals either.
It works really well as a bodywash and shampoo and foams quite nicely (that's the SLL), but we tried it as a bubble bath and the bubbles were a bit short-lived. As a wash, though, it foams and cleans and smells great with that same cleansing and refreshing properties as the body lotion.
Oddly, it seems to be the only product I've been sent that wasn't made in the UK, which is strange as it's the one that won the environmentally friendly award.
Overall I'm really impressed with the Zingy Citrus range from Earth Friendly Kids.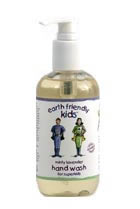 We also received a Minty Lavender Handwash (for superkids) (£3.99) which is just as lovely. It's a very minty smell, with only an undertone of lavender.
My rule of thumb with products I use on my toddler tends to be that if it has ingredients I can't pronounce, I don't use it, and unfortunately this one does have a few of those. They all seem to be derived from natural sources, though, and the product has no parabens, artificial colouring or artificial fragrances. The handwash is Vegetarian approved, organic certified and in a pump- action bottle for less spillage.
The whole appearance of the handwash is targeted at children, with tips on the packaging to help kids be 'earthy friendly' by helping before being asked, and saving the environment by drawing on both sides of paper.  I think the colours and style will be really appealing to children and with a little imagination from parents – and a browse of the website to introduce children to the Earth Friendly Kids – could make washing hands fun.
Earthy Friendly Kids has an active Facebook page where you can get to know the people behind the company and find out about new developments and competitions.
You can buy the products from Waitrose and other wellbeing outlets.