Dr Oetker Gel Food Colouring And Neon Glitter Writing Gel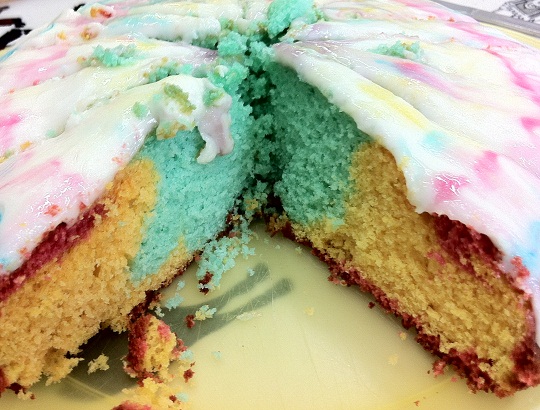 I saw a fabulous idea for a cake - a tie dye cake - on the internet. How did they get those bright colours? I figured that, as it was an American site, it was something they had that you couldn't get in the UK.
I was a little bit right. Almost immediately the range of icing and colouring gels from Dr Oetker appeared in my local supermarket. I had to try them out, and see if they really worked. You know how you see something on Pinterest that never quite works out the same in real life?
But how much fun could you have with baking for children with a palette of neon colours? I had a bake sale coming up at my son's primary school, so I decided to go ahead and use it to give the icing gels a proper testing.
Click on the link below to see what happened when I made my version of the tie-dye cake, using Dr Oetker's Neon Food Colouring and Neon Glitter Writing Gel.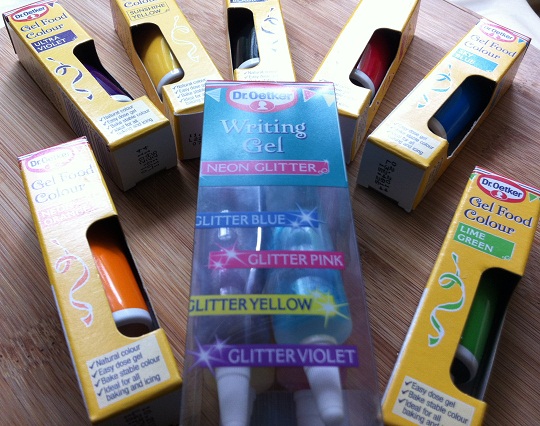 Dr Oetker Neon Glitter Writing Gel (£2.98) comes in a pack of four colours  - blue, pink, yellow, violet. For this reason I opted to do four colours for the cake, instead of the six used in the original recipe.
The original also had two layers, and this gives it a proper tie dye look. As this was the first time I was trying the idea out, I just did one layer. If you want to see how it is really done, check out the fabulous recipe idea on the blog Bird on a Cake.
There are eight individual tubes of Gel Food Colour to choose from, each priced at £1.55. Colours range from Neon Orange to Sky Blue and Sunshine Yellow.
Now you don't get these sorts of colours using natural colourings. The ingredients list on the side of the packet is pretty artificial. Things like Acetic Acid sound bad, but is actually just what you find in vinegar. Carrageenan is seaweed. The Titanium dioxide and Potassium aluminium silicate sound a little more worrying.
Ultimately everything else in the cake is made from scratch, and a little may be OK given how many other chemicals they'll come into contact with. It is always worth reading the ingredients on everything though.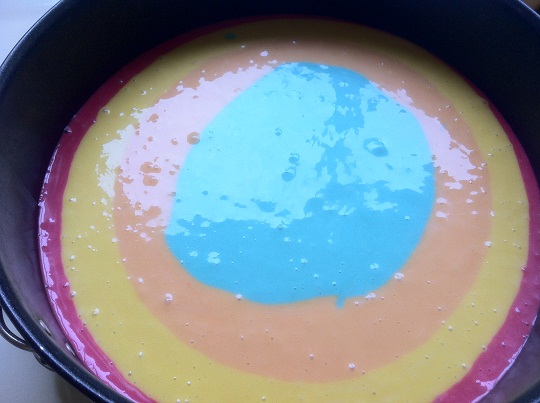 I made the mix a little drier than normal, to allow for the food colouring. However, I found I had to use a lot more than I expected - probably about half a tube  - to get a really good strong colour. The blue came out a lot less sky coloured than it did a sort of sea blue/green. The other colours all came out exactly as expected from the packets.
As I was only making one layer, I poured in all of each colour one at a time. You pour it in the middle of the pan, then the next in the same place and so forth. It worked really well, although as there was the same amount of each (you're supposed to put more in the first layer and decrease as you go up) it pushed the bottom layer around the cake. So the red, which I put in first, ended up on the outside, and the yellow was all on the inside.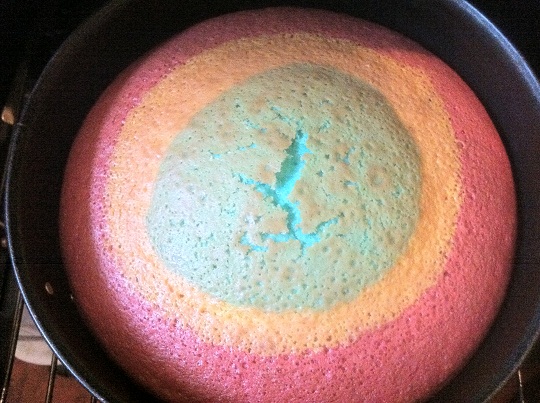 I used the glitter gels on the icing. Now, my white base icing was a little too runny. Either make it drier, or leave it to harden a little while. The gel icing sunk into the white, as you can see from the pictures, although that made for a nice effect in itself.
The glitter is quite pretty. Next time I will do more circles of colour, closer together. I used a fresh paintbrush, one with a broad, flat edge. A thin pointy brush won't spread it too well. Then you need a cloth to hand to wipe the brush after every stroke. Work from the middle outwards.
As mentioned I think I needed to use a harder or drier icing but overall the gel kept its colour really well. It might have been more glittery if it hadn't sunk down into the icing, but overall I was happy with the result.
Pros: an excellent, fun colour. Works great in icing
Cons: a little expensive when using as a food colouring as have to use so much. The glitter gel has some interesting ingredients.
Overall verdict: 8 / 10