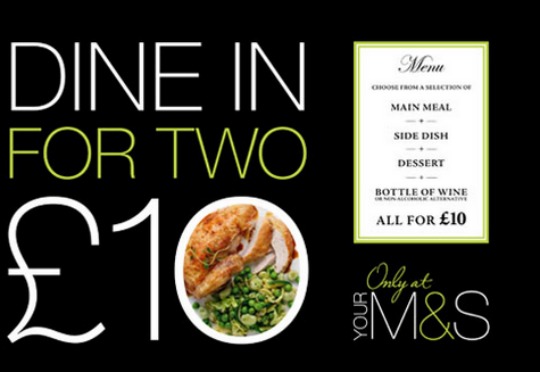 Yum! The Dine In Meal for Two Deal is back at Marks and Spencer. It starts tomorrow, Wednesday 26th August until Tuesday 1st September. It's only £10 and you get to choose one main, one side, one dessert and a drink. I am not saying choose wine, but I am SO choosing wine with mine. Most Marks and Spencer Food Halls/Simply Food stores participate in this deal, but some carry only a selection of the list below.
MAINS
Steak
Rotisserie Chicken
Piri Piri Whole Chicken*
Tuna Steaks
Rosemary Crusted Seabass
Parmesan & Lemon Chicken
Duck Breast Fillets
Ready to Roast Honey Glazed Gammon
Cook with M&S Pork Medallions*
Gastropub Moussaka
Gastropub Chicken Kiev en Croute
Hunters Chicken*
Asparagus & Pea Spelt Risotto (V)
SIDE DISHES
Potato Rosti
Chunky Chips
Minted New Potatoes
Tenderstem Broccoli, Butternut & Fine Beans
6 Potato Croquettes
Santini Salad
Pantofola*
Chopin Crispy Wedges
Garlic Mushrooms
Peas & Carrots
Mediterranean Vegetables for Roasting
Broccoli, Carrot, Courgette & Fine Beans*
DESSERTS
Cheese*
Jubilee Strawberries
Profiterole Stack
Peach Melba
Passionfruit Roulade
BFY Crème Brûlée
2 Raspberry Panna Cotta
2 Millionaires' Shortbread
Strawberry Jelly Trifle
Tarte au Citron
Key Lime Traybake
WINES AND DRINKS
Raso De La Cruz Temp Cabernet
Loretto Sangiovese
Daniels Drift Shiraz Cabernet
Raso De La Cruz Macabeo Chardonnay
Loretto Trebbiano
Bianco Terre Siciliane
Reserve De La Saurine Rose
Peach Garden Rose
Vino Di Tavola Rose
Cape Quarter Fair Trade Red
Non-alcoholic Options:
Valencia Twin Pack
Elderflower Presse Twin Pack
* selected stores
You can read more about the Marks and Spencer Dine In Meal Deal, here*.
Thanks to karlie88 @ HUKD