Dine In For Two £10 @ Marks And Spencer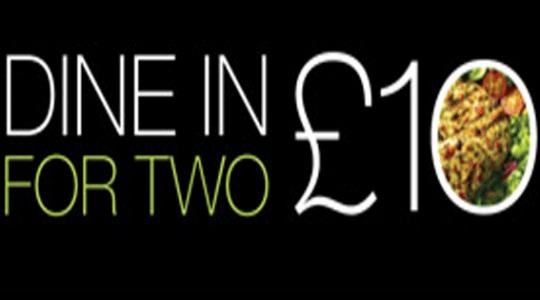 From today until the 21st April 2015, you can get your mitts on a Dine In for Two Meal Deal from Marks and Spencer for just £10. You may have seen this advertised before or even tried it out before. They do it every now and then, in an attempt to get us thrifty folk in store. I am fanatical about M&S food and I don't possess the discipline to go in and buy just the £10 Meal Deal, but that's not to say you don't.
The £10 Dine In Meal Deal Offer consists of one item from each category, and is only available in selected Marks and Spencer stores.
Here's what's on offer:
MAINS
Rotisserie Chicken
Honey Glazed Gammon
Chicken with Proscuitto Ham*
Rosemary Crusted Sea Bass
Gastropub Beef & Old Peculier Ale Pie
Gastropub Moussaka
Chicken Tikka Masala*
Chicken Jalfrezi*
Chicken with Patatas Bravas
Chicken with Cheese & Leek
Slow Cook Duck Legs*
Hunters Chicken
Pork Medallions*
Mushroom Risotto (V)
SIDE DISHES
Pilau Rice*
Onion Bhajis*
Potato Rosti
Minted New Potatoes
Potato Croquettes
Chunky Chips
Classic Veg Layer
Peas & Carrots
Pea, Sweetcorn & Broccoli Layer
Carrot & Swede Crush
Santini Salad
Garlic Mushrooms
DESSERTS
Cheese Selection*
Fruit Salad
Profiterole Stack
Hot Chocolate Fudge Pudding
Raspberry Panna Cottas
Millionaire's Shortbreads
Key Lime Traybake
Tarte au Citron
Strawberry Jelly Trifle
Apple and Blackberry Puff Pie
DRINKS
Raso De La Cruz Temp Cab
Loretto Sangiovese
Raso De La Cruz Macabeo Chardonnay
Loretto Trebbiano
Raso De La Cruz Rose
Elderflower Pressé
Valencia Juice Twinpack
Thanks Kooks65 @ HUKD