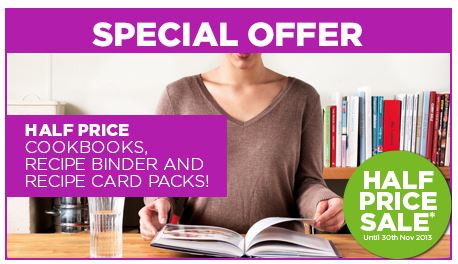 Weight Watchers has a half price sale on their Deluxe Kit (and magazines, publications, starter kits, electronics and accessories) reduced from £55 to £24.95. The sale ends 30 November 2013, so it's a good time to get your things together for those January resolutions. I'm not sure about buying these as a Christmas gift though. It could totally send the wrong message and put a damper on someone's Christmas!
The Deluxe Kit from Weight Watchers offers everything you need to help you manage your weight loss environment. It includes the My Journal book for you to keep track of what you eat, drink and do and write your very own story of success in this motivational 12-week weight loss diary. 
The A-Z of smart food shopping for weight loss with new layout making it easier to find your favourite foods – reclaim control with a shopping plan that works plus ProPoints values for thousands of your favourite foods.
Eat Out, the definitive guide to making smart food choices away from home. Discover how to create a positive environment for becoming less sedentary and more physically active and practical advice to help you cope at times when you need some extra support.
There's also a ProPoints Plan Pedometer that actively tracks your activity ProPoints values and motivates you to move more and a handy bookmark and £15 money-saving vouchers.