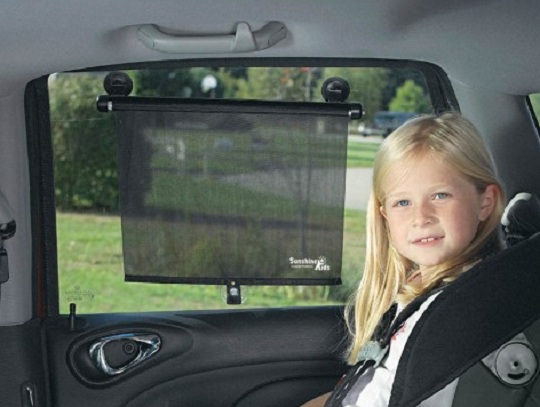 Help block the sun and glare on your kids while travelling in the car with these Sunshine Kids Solar-Max 2 shields. Previously marked at £9.99, Kiddisave are offering this pack of two for just £3.99. That's a super saving of 60%. Delivery is charged at £3.95 for all items under £49.99 so check out their fantastic deals becau8se if you order is £49.99 delivery is free to mainland UK.
Get all year round protection with this pack of two solar shields. These unique, lightweight shields are made from solar mesh fabric and are 406mm wide and adjust to any length. They're simple to use. Just attach securely using the clips or the super strong suction cups and rewind at the touch of a button.
As the ozone is depleted and more and more harmful UV rays are let in, the danger of sun damage and skin cancer to our kids' generation is very real. Sitting in a car with the sun streaming through the windows onto your kids can damage their skin especially on their faces. Help reduce this risk by putting these solar shields on both back windows. They're see through so they wont impair your visibility and your child can see through the window – all while having significantly less exposure to the damaging sun.