'Do you want to review a new kind of tea bag from a company called Bistrotea.com?' asked She Who Co-ordinates Reviews here at Playpennies Towers. Let's just say I didn't need to be asked twice, such is the extent of my tea habit. You could say I'm a tea-aholic and in fact the only review request that would have elicited a happier response from me would have been if they'd asked me to review a bottle of wine or three. Alas, that never happens.
Anyway. As it transpires, Bistrotea Tea Pods (£14.80 for a box of 32 Tea Pods) are natty little inventions that do away with all the finger-burning, drippy mess of a conventional tea bag.
You just remove the TeaPod from its paper envelope, put it in a cup, add boiling water and gently stir the TeaPod for a few minutes. You let it stand for a further minute to infuse, then you use the TeaPod to stir in your sugar and milk (if required). You don't even need a teaspoon! Then you remove the TeaPod and tap it on the edge of the cup to discharge any excess water, and pop it in your waste recycling bin. Clever, no?
Each TeaPod is packed at point of origin using premium grade, organic tea leaves that are harvested, selected and processed in Sri Lanka on fair trade estates, too. Sounds good so far.
But alas, the actual tea flavours sent were't quite my, um, usual cup of tea. Nothing wrong with them, I hasten to add, I'm just that I'm a hardcore English Breakfast kind of girl, and we received a Fruit Berry Tea Pod (hibiscus, goji berry flavour, sweet blackberry leaves, red beet, elderberries and goji juice concentrate) and a Red Tea (Natural jasmine and lotus flavours and extracts.)
So what did I do? I offloaded the Tea Pods onto my husband, who is much more of a fruit and herbal tea drinker than I am. He's also much harder to please than me, so I'll admit that I didn't have high expectations of his verdict on the Bistrotea Tea Pods.
But strike me down with a feather; it turns out I can still misjudge my husband after all these years of wedded bliss. As it happens, he was positively evangelical in his praise for Tea Pods.
The Tea Pod instructions state that you should pour boiling water over the Bistrotea Tea Pod, and that prolonged stirring intensifies the flavour and taste. My husband confirms that this does indeed appear to be the case. He was a fan of the whole thing - the packaging (the Tea Pod comes in a chic white paper wrapper) appealed to his inner style guru, while the ingenuity of the whole Tea Pod design and idea pretty much had him at hello. And it more than stood up to the rigours of a thorough taste test.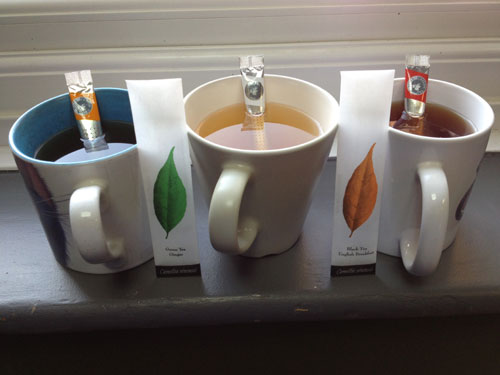 Overall, the Bistro Tea Pod was a big hit, and we definitely reckon the restaurant, hotel, boardroom and hospitality boxes are worth spending a few quid on if you happen to be in that sort of industry. But would I spend nearly £15 on a box of 32 Tea Pods? I'd have to think twice, at that price, but I reckon my husband is sold. So let's hope he's paying.
Pros: The Bistro Tea Pod is a brilliant invention and we loved everything from the packaging and design to the taste and flavour. It turns a quick cuppa into a real tea 'moment'. Tea therapy, if you like.
Cons: At not far off 50p per cuppa, these ingenious Tea Pods aren't cheap. You definitely won't want to go serving them up to the builders along with your best biccies. I'm not sure I could justify the expense, much as I believe that the ensuing cuppa is far superior to your average brew, but I recommend splashing out on the hospitality versions if you're in that trade.
Overall verdict: We're fans of the Bistrotea Tea Pod, and we'd definitely gravitate towards ordering a Tea Pod cuppa if we spotted them being served in a cafe or restaurant, but we might need to win the lottery before we'd start cracking open one of these babies every time we fancied a brew.