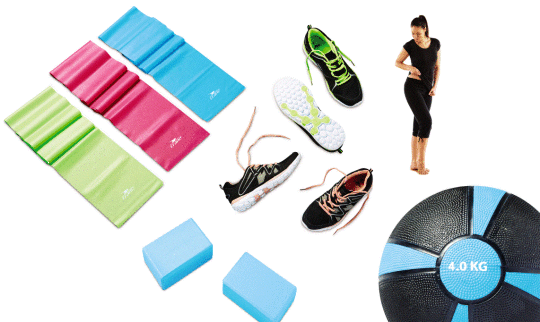 'Fess up! What are your new year's resolutions? Planning on getting into shape, relaxing more or just improving your general health? Then get yourself down to Aldi on the 2nd of January for superb offers on their Yoga and Fitness Specialbuys.
Included in their sales are Lycra Yoga Capri Pants (£6.99), super soft and loose fitting Yoga Leggings (£8.99) and breathable, extra-long length Yoga Tops (£5.99) - all designed to provide high stretch yet remain comfortable. Complete the look with a long sleeved hooded thermal Yoga Jacket(£11.99), complete with an audio port for your MP3 player or ipod so you can enjoy listening to your favourite songs while exercising.
Aldi also offers Yoga and Pilates Accessories Set (£4.99) including yoga balls, yoga blocks, pilates rings and fitness bands. Finally there will be a Yoga Mat and Foam Roller Set (£6.99) that's perfect to help improve your core strength and prevent your hands and feet from slipping when trying out your best plank or bridge pose.
For general fitness and high energy classes, the High Impact Sports Bra (£12.99) will be available in black or white and you can combine this with a pair of Fitness Trainers (£11.99). The new range also includes a fantastic selection of gym equipment including cast iron Kettlebells from 2.5kg (£6.99) up to 7.5kg (£11.99) as well as 1kg, 2kg and 3kg ergonomically shaped Dumbbells (£6.49).
You'll even be able to grab a pair of Sports Earphones and Armband (£4.99) to get you going.
If you're really serious about getting healthy, I'm guessing being up early on 2 January won't be that hard ;)