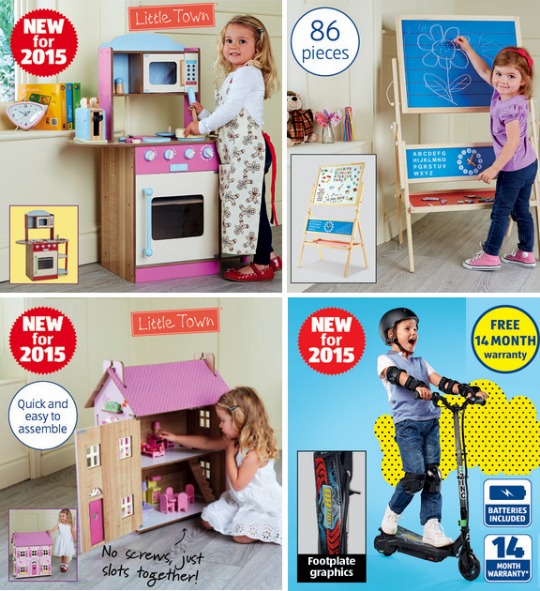 What are you up to tomorrow? Wrong! You're off to Aldi with the rest of us for the 'BIG Aldi Toy Event'! They have some cracking Special Buys including some amazing wooden toys at some of the best prices we have ever seen. Honestly, it's going to be that good!
The highlight has got to be the Large Wooden Kitchen* which is an unbeatable £29.99, and I think at that price they will sell out very quickly indeed.
If you are going to be grabbing that Wooden Kitchen then there are also sets of wooden kitchen accessories that match for £9.99 each. You can choose from Toaster Set, Pots and Pans Set or a Breakfast Tray Set*, and they are all great value at less than £10.
The other best bargain is the beautiful Wooden Dolls House*for £29.99, and you can also get a matching 20 piece Doll's House Furniture Set* for just £12.99.
There are also other Wooden Toy Sets* for £8.99 each including a Wooden Railway, Fruit and Vegetables, a Fishing Game, Construction Blocks, Creative Blocks, a Port Facility or a Threading Game. Aldi will look like an explosion in a Melissa & Doug factory tomorrow, and I for one can't wait!
There will also be an Electric Scooter for £74.99, a Double Sided Wooden Easel for £19.99, Wow Pre-School Vehicles at £4.99, along with lots of craft sets, books, puzzles and more!
All these super toy offers are in store only at Aldi from Thursday 29th October and are subject to availability. We think some will sell out straight away so get there tomorrow if you can!