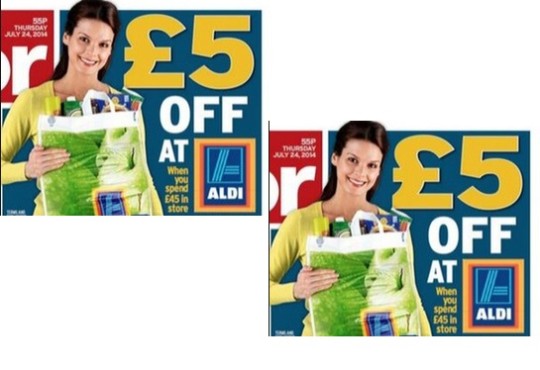 Buy the Daily Mirror on Thursday and you'll be given a voucher for £5 off a £45 spend at Aldi.
While there are some grumbles from Aldi regulars over on the Aldi Facebook page that this voucher used to be £5 off £40 spend, there are many more that are still happily shopping at Aldi and have said they will be using this with their regular food shop.
At the moment I can't really find any other information about this offer - what it excludes or includes, or how long it's valid for but reading through the comments it seems like you could buy two papers if your weekly shop requires over £90. Some have also said that they'll buy two papers so they can use the voucher this week and next week. £10 off a £90 spend isn't too bad, really.
I have a friend who raves about her weekly shop at Aldi, posting pictures on Facebook every week about what she bought and for how much and I must admit I often wish there was a store near us, the way she goes on about it! I'll be forwarding this post to her too, so she can brag just a little more this week.
Thanks to wellhellothere at HUKD