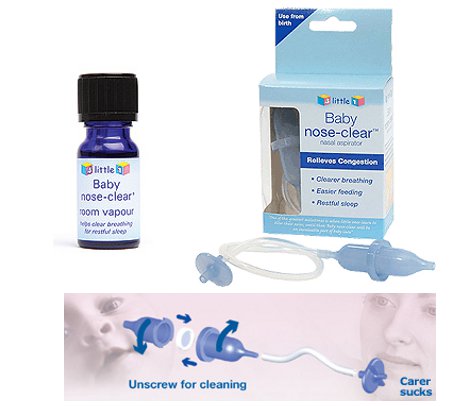 We've had the Baby Nose Clear Nasal Aspirator and Room Vapour lying in the cupboard for ages because we've been lucky enough to not have any sickness so far. However, my daughter has had a bit of congestion recently so I thought it was a good opportunity to try both out.
The Nasal Aspirator is a fantastic idea, and the first thing I can say about it is that it does work. It is approved for use from birth, and the way it works is that you put the nozzle at the entrance to the baby's nose and suck on the nozzle from the other end. There's a chamber that all the gunk goes into, and a filter and a long tube that prevents it from going anywhere near your mouth. 4 Little 1 assure you that you cannot 'over-suck', so you're never going to end up with a mouthful of snot.
I must admit though, that it grossed me out. Despite knowing that nothing's  going to touch my taste buds, it did turn my stomach a little, and for me personally, I think I'll stick to the breast milk in the nostril method for clearing congestion, but if that's not an option, or you're not as queasy as me, this is a fantastic system, and definitely better than a baby that's struggling to feed or sleep due to congestion.
The Room Vapour, on the other hand, is fantastic stuff and I love it. The lemon, tea tree and pine fragrance is gorgeous and even though I'm not struggling with my breathing, it clears my airways and makes breathing easier. It can be used from birth, by putting a few drops in a bowl of warm water in the room the baby is sleeping in, the room fills with the beautiful aroma, and clears the airways, making a better night's sleep.