Mugz Ice Cream Maker (Seal) £5.99 @ Argos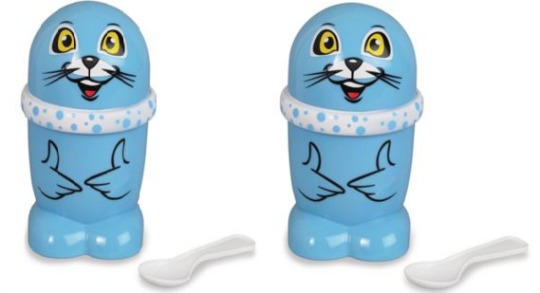 What's better than ice cream on a hot, summer's day? Homemade ice cream, made with your child's own fair hands.
With an impressive £4 reduction and free delivery, these make a very cost effective and fun way to make individual portions of ice cream.
By method of shaking these only take a mere 3 minutes from liquid to licking. Just stick them in the freezer until frozen then add your mix and then you are good to go. I must admit I have always wanted to try a bit of ice cream making myself.
Try out some weird and wonderful flavours with the kids or use the recipe booklet that is included with the maker.  If any of the family have allergies then you can tailor your ice cream recipe, so that you are in control of the ingredients.
Not only are these quick at making delicious ice cream, these can make frozen yogurt or sorbet as a healthy alternative. Very easy to use, which means that children as young as 4 can be involved at making the frozen treat.
With their simple design, these cute seal ice cream shakers are a super way of introducing the children into the kitchen.
Easy to use, easy to clean, and you will be pleased to know that no batteries are required.