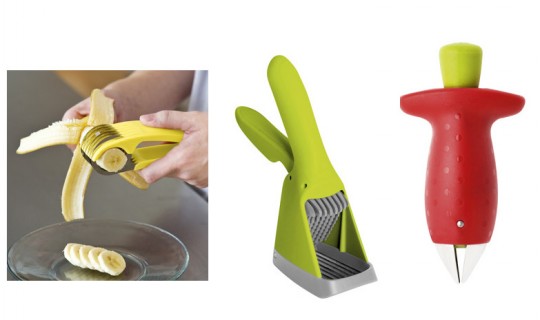 JoJo Maman Bebe has a sale on a few of their weaning equipment gadgets, which aren't actually for weaning at all, I don't think! They look more like kitchen equipment to me. Read on below for more information
To be honest, when I first saw these I thought they were a joke. Talk about creating a gadget to deal with something that wasn't a problem, and anyway, have you ever heard of a knife? But then I started reading some of the reviews and it seems like people really love them. I've now come to the conclusion I may be missing out and I'm wondering if I'm ever going to be able to pluck a strawberry without wondering if I really need these gadgets again!
The Nanner Banana Slicer slices bananas quickly directly over a bowl or plate. The stainless steel blades are evenly spaced for evenly sized banana bites. The plastic bit of the Nanner Banana Slicer is BpA-free, Phthalate-free and PVC-free and the whole thing is top rack dishwasher-safe. It is reduced from £9 to £3, although Amazon currently have it listed for over £16.
The Perfect slice creates perfect child-sized bites every time, and is suitable for fruit, vegetables, cheese and eggs. It is also dishwasher safe. This is down to £5 from £14.
The Pluck stem remover is an ...interesting... device that will pull out the tough stems of soft fruits such as strawberries without mess. Perfect if you are giving them straight to a child, they say, although my daughter always holds her strawberries by the stem and eats them that way. Anyway, this one is £3 down from £8 and currently £15.31 at Amazon.
If you love gadgets, this is your sale, for sure.
Thanks to snoozeyouloose at HUKD