We've been reviewing a range of baby food accessories from Annabel Karmel  and NUK over the last few weeks, some of which we love and some of which are perfectly fine, but didn't rock our world.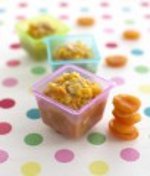 Starting with the Stackable Food Pots, I must come clean on something first: my eldest daughter is two years old and my youngest is a month old today, so we didn't use these for purees. In fact, we practice Baby Led Weaning, so my eldest rarely saw a puree, and I never mushed up food for her, so I don't really have much of a basis of comparison of these as suitable for purees. However, they are fantastic pots for snacks when out and about and we've actually been using them for breakfasts too.
I make a litre of yoghurt for our family about once a week, and then disseminate the yoghurt from the maker into portions for the week. Add a few nuts, fruit and so on, and pop them in the fridge and my hubby can pull one out in the morning for her. The portion size is perfect – it looks a bit small, but honestly, it's about as much as she eats.
The other thing they are perfect for is snacks while out and about – raisins, small cubes of fruit and so on. I'm not so good at the 'snacks on the go' thing yet, but when we do, it's the perfect size.
The Good & Bad?
It's a great size, it's stackable so it doesn't take up too much space, and it's easy to clean. They're also pretty colours. Unfortunately the lids don't always stay on very well and I've ended up with raisins all over my bag on more than one occasion – which is fine, but not as fine if it's a green pea puree, I'm sure.  The lids do stick very well to the bottom of the pot above them. It's a pain, but for something that's just being used in the fridge (or freezer, I guess) it's no big deal.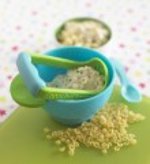 The Food Masher and Bowl is one of the items that I wouldn't put on my must have list, but that's really just due to my parenting decisions (aka Baby Led Weaning). This set has definite benefits if you are puree feeding.  For example, it's the size of a child's food bowl, so you could probably carry it around with you. It's easy to mash soft fruit (I tested it on bananas for banana bread and it was quick and easy.  It works on the principle of a potato masher – a spoon with holes in it that you can push stuff through. If you want it lumpy, just mush less, if you want it smooth, mush more. Very simple. It was a finalist in the Practical Parenting Awards 2011/2012, so obviously it works for everyone else!
The Good & Bad?
I can't really think of anything bad as such. It's well made, and it says suitable from six months, which I'm pleased about. The only question I have is that the picture on the website has a BPA-free sticker on, which the box we received doesn't have. Does that mean ours isn't BPA-free?  The bowl is dishwasher safe, but not microwave safe (probably because you're not supposed to microwave baby food?)  It mashes soft fruit and cooked vegetables but not hard fruits. It's a nice kit, it's useful, but your parenting experience won't be different for using it – no more or less than for using a fork.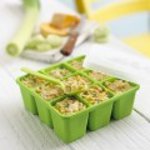 The Food Cube Trays are quite hard to write much about. They're like ice cube trays, there are nine in the tray and they're quite deep and can keep a fair amount of food. These do have a BPA free sticker on, they're freezable, and can be put in the dishwasher. They can't be cleaned in any kind of hot steriliser, like a steam steriliser (which is weird because my dishwasher is like a very hot steam steriliser!).
The Good & Bad
Well, it's silicone, which in theory makes it easier to get the food out once it's frozen by just turning it 'inside out'. That worked fine for the banana in the outside cubes, but not so great for the one inside. Warming it up a little made the food pop right out, but then that also partially defrosted cubes I didn't want, so I'm not convinced by these. On the plus side, they're a great size as far as portions go and are quite compact, so they fit conveniently into the freezer.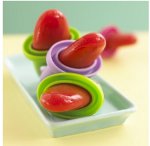 By far the best items in the set were the Ice Lolly Moulds. I cannot understand why they say these are suitable from 9 months, especially since they also discuss these being ideal when your baby is teething (which mine did from four months!)
The Ice Lolly set gives you four ice lollies in detachable pots which means you can slot them into the 'holes' in the freezer. It also means you don't have to put them all in at the same time, or take them all out at the same time. Basically, what it means is you can make a fresh lolly every day and just keep replenishing them in the freezer.
We make fruit smoothies regularly, and this is a great way of using the leftovers – my daughter thinks these are 'ice cream' which suits me: a healthy, sugar free yummy alternative.
The Good & The Bad
They're brilliant, and we love these. Sometimes the lolly does come out in the pot rather than on the stick, but so it goes. I love that they're in separate pots and are detachable. Also, the base of the handle is quite wide, so it serves as a 'drip tray' when you have a 2 year old labouring lovingly over her 'ice cream'.
The bad is just the shape, unfortunately. They take up a lot of freezer space because of their shape. If you unclip them before filling them you can slot them in in the freezer, but they can get messy if they tip when you're closing the drawer before they've frozen.
These are also BPA free, very easy to clean and a fantastic alternative for left over smoothie, juice and so on.