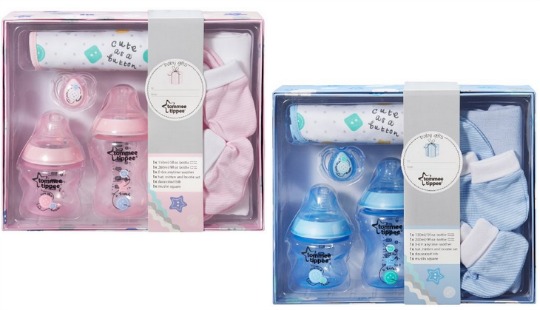 As soon as I hit my thirties my Facebook News Feed filled up with scan pictures and pregnancy announcements. I love babies so I am always more than happy to go new baby shopping. Tommee Tippee are a brand that we all know and many love. They have brought out Closer to Nature Gift Packs so to take away the stress of making up a gift yourself. They are just £14.99 from Amazon just now with FREE delivery included. Asda are currently selling these for £14.99.
What's inside the Tommee Tippee Closer to Nature Gift Pack?
A 150ml Decorated Pink or Blue Bottle, a 260ml Decorated Pink or Blue Bottle, a 0-6 months Decorated Pink/Blue Soother, a Pink/Blue Decorated Bib, a White Muslin Square and a Pink/Blue Hat, Mitts & Booties Set.
Each set comes in a lovely gift box which requires no additional wrapping. It is just an ideal present to have tucked away in the house for a impromptu baby gift.
There are only twelve hours left on this deal so you may want to get your skates on and get it bought before the price goes back up.