Tommee Tippee Closer To Nature 4 Pack Of Bottles £5.99 Amazon/John Lewis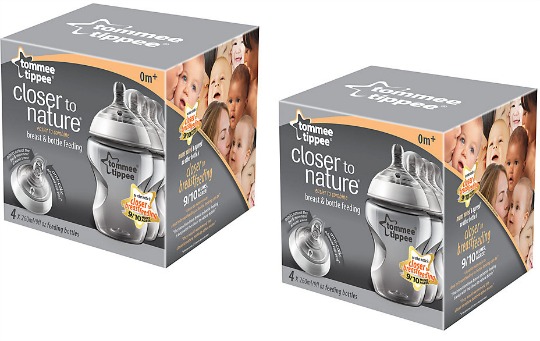 Yesterday, we blogged about these Tommee Tippee Closer to Nature Bottles at £9.99 for six. They sold out very quickly! The good news is both Amazon and John Lewis are selling the very same bottles in a pack of four for just £5.99. This equates to £1.49 a bottle so it actually works out better value than yesterdays deal. If you want FREE delivery, just order two packs from Amazon and you will be getting eight bottles for just £11.98 delivered.
If you read my blog yesterday, or any other blog post I have written about these Tommee Tippee Closer to Nature Bottles, you will know that I rate them very highly.
The teat on these bottles flexes and feels as close to a real breast as possible. This is a very important feature for a bottle, especially if you are combination feeding or even if you are feeding your baby expressed milk.
These Tommee Tippee Closer to Nature Bottles are available to Click and Collect when you buy them from John Lewis, which means you can collect them for FREE from JL or any Waitrose store.
Thanks to Frank30uk and mobjw @ HUKD