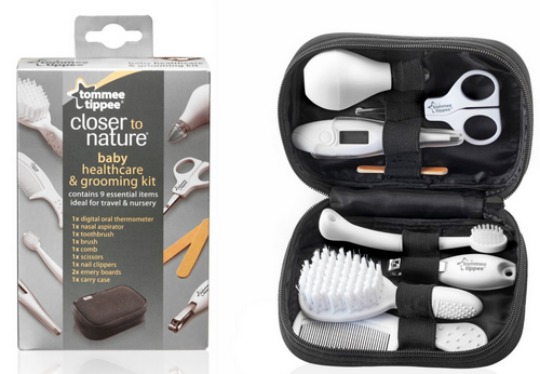 We are normally blogging about bottles when we talk about the Tommee Tippee Closer to Nature. This however is a great wee piece of kit for when you have little one, and not necessarily just babies. The Tommee Tippee Healthcare and Grooming Kit is just £11.95 at Amazon just now, with FREE Super Saver Delivery included. This tends to sell for around the £15 mark elsewhere so this is a good price for a handy set from a very reputable brand.
The Tommee Tippee Closer to Nature Healthcare and Grooming Kit is aimed at us parents for our little ones. It contains nine items in a handy. zip-up, black case. Those are a digital oral thermometer, two emery boards, nail clippers, a comb, a brush, a toothbrush, scissors and a nasal aspirator. That's a lot of essentials for under twelve quid.
I want to stress not to use the nail clippers on little baby nails. I say this as someone who learnt the hard way. I cut the top of my eldest son's thumb skin off when he was newborn. These are not for babies but fine on harder finger/toenails on older children.
The digital oral thermometer is ideal for keeping track of baby's temperature when poorly. As is the nasal aspirator, for when baby is too young to blow nose and is congested.