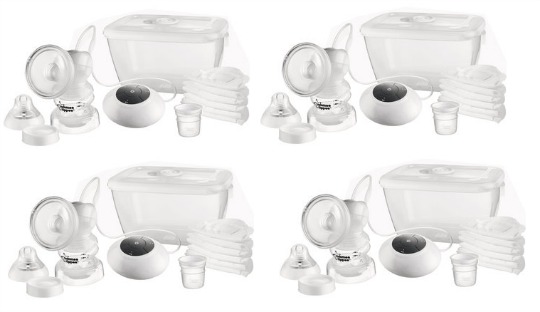 Electric Breast Pumps....you either love 'em or you hate 'em! I have to admit that having used a manual pump and an electric pump, I much preferred the electric one. It's like anything else though, you have to find the product that suits your needs, and of course baby's. The Tommee Tippee Closer to Nature Electric Breast Pump is reduced from £99.99 to just £49.99 at Babies R Us just now. It's certainly one of the cheapest out there at the moment.
I am sure I don't need to tell you what does but I can tell you that it follows it's own rhythm when expressing milk. A manual one is dictated by yourself.
This Tommee Tippee Closer to Nature Electric Pump claims to mimic your baby feeding. I cannot tell you if this is true or not but I can tell you that out of 41 reviews on the Babies R Us site it scored a very respectable four stars.
As well as the pump you get a 150ml Closer to Nature Feeding Bottle, a Milk Storage Pot, Six Breast Pads and a Steriliser Box.
You can Click and Collect this TT Electric Breast Pump for FREE or opt for Home Delivery which is also FREE of charge.