Shhhh! Kids Wet Weather Gear @ Lidl Starts Next Week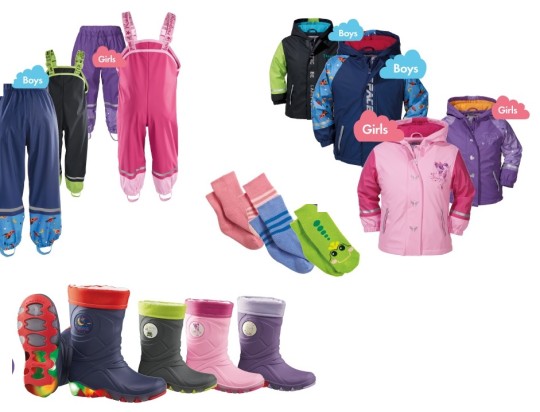 From Monday next week Lidl will have a great offer on! They're selling kids wet weather gear for amazingly good prices!
They will have boys and girls waterproof jackets for £7.99 in green, blue, pink and purple. They have matching waterproof trousers for £5.99, but you can buy them together for £12. I love the little dungaree style ones and think they are simply perfect for muddy puddle jumping! These also have reflective material which is great for this time of year. Age range wise, they are made for 12 months - 8 year olds.
Of course every puddle jumper needs warm toes, so the £1.49 thermal socks are a winner, and I am really quite interested in the kids welllington boots! They are £7.99 and they are so cool! They have flashing lights at the heel that light up every step of the way! My kids would love it. The felt insole with insulating aluminium insulating layer should provide extra warmth and comfort and they have a 3M Scotchlite™ reflective material for improved visibility - love that too! These are available in sizes 7 to 11 kids.