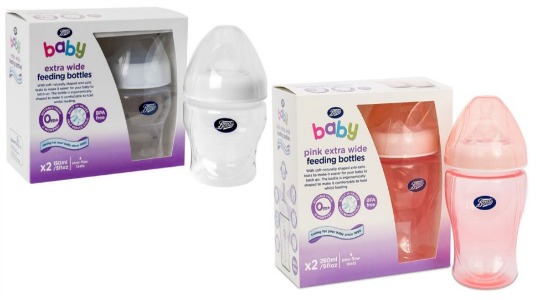 Are you expecting? Or maybe you know someone who is?  Boots.com have a THIRD off selected own brand Baby Bottles just now. Boots Baby Bottles are very reasonably priced even at the normal price. Now you can get a set of two bottles for just £5.33. I have never tried these before but they are certainly worth a try if you are on a budget.
Coloured Baby Bottles tend to be very popular and Boots do their own ones for just £6.66 instead of £9.99. You get two Wide Neck Bottles in each pack and they are available in two colours: Blue* and Pink*. They come with slow flow teats which mean that you can use them from birth.
If you prefer clear ones then they have those too: Boots Extra Wide Neck 150ml Twin Pack Baby Bottles* for £5.33 and Boots Extra Wide Neck 260ml Four Pack Baby Bottles* just £9.33.
This Nuby Bottle Feeding Set* was £14.99 and is now only £9.99. It contains three bottles with slow flow teats, the snug n' dry™ bib and a bottle brush.
You can Click and Collect your Baby Bottle order for FREE from a Boots store near you or pay £3.50 to have it delivered to your home.