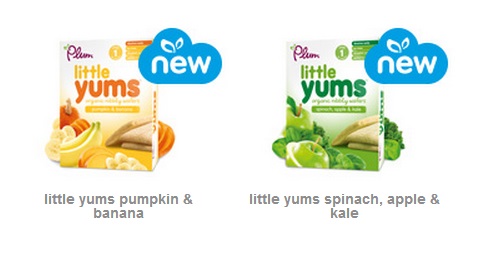 Apparently some Poundland stores are stocking Plum Organic Little Yums Baby Food snacks for - not surprisingly, £1. However, there's also a 50p voucher inside, redeemable until December 2014, so you can stock up on these and then redeem them for quite some time, saving yourself a fair amount of money!
Click here to see the offer at Poundland, though you'll have to go in store to purchase.
We did Baby Led Weaning with both our children, which meant we never needed purees. We did however, love our Plum snacks when we went on a road trip around Europe with a toddler. We all know when a small person gets hungry, there's no explaining that we can stop in 20 miles! They were so convenient to have on hand, and I loved that they were as close to good ingredients as you can get in boxed food.
Little Yums encourage little teethers to feed themselves with baby-sized wafers that are easy to hold and nibble. The unique chewing texture dissolves easily in their mouth, so there is no mess.
I do like the sound of that!
Thanks to cburg at HUKD