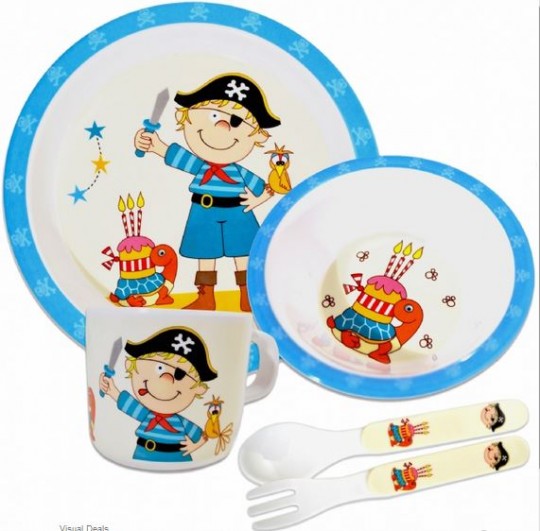 Find Me A Gift are an online retailer that offers unusual, unique and different gift ideas for men, women and children. They sent us a Pirate themed melamine dinner set* to review.
First a bit of annoyance - it seems they haven't joined the ranks of retailers who have realised that toys don't have a gender, so can't really be 'boys' or 'girls'. It really winds me up massively. This is a lovely dinner set, with fun pirate theme, but everything on the website says it's for boys. You could have fooled my pirate loving daughter, who decided she had to be in her pirate fancy dress - complete with eye patch - to eat from the plates and drink from the cup. 
So, having established that a pirate themed plate can be for girls too, let me tell you about the set.
The set includes a plate, bowl, mug, fork and spoon, all made from melamine plastic.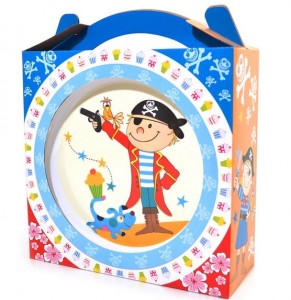 It's a diddy mug, but perfectly child sized, since they don't drink that much before it all ends up on the floor anyway.  The bowl is 14.2 cm x 4 cm x 14.2 cm and the plate is approx 21.2 cm x 2 cm x 21.2 cm, making them pretty much standard with every other set we've ever had. 
The pirate set has two different pictures, and it's luck of the draw what you're going to get. That's a bit unfortunate as you could want two different ones for two children, or already have one and want to replace part of it or compliment it with the other, so I don't like that, but if you're not fussed what you're going to get, that's good, because the pictures are lovely.
They are bold, bright, and colourful. My daughter sat looking at the pictures and chatting about them, and what was going on in them and all that. They have one of two pirates pictures, both with pirate attire, down to the eye patch and shoulder parrot. They also have a ship's dog or a candle carrying turtle.
For the bowls the images are split, so you have the pirate's face and weapon wielding arm, and the cup is a version of the same - the smiley pirate though.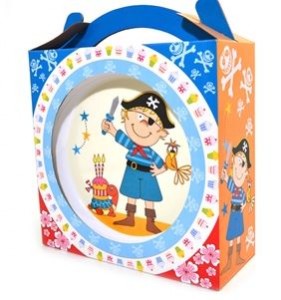 The cutlery isn't really the most practical in the world. I prefer a proper fork and knife with the melamine handles, because with these plastic clunky ones the food tends to fall off pretty easily and it's hard to spear anything, but it all works okay. To be fair they eat with their fingers most of the time anyway!
The only negative for the Pirate Kids Dinner Set is that it is handwash only, rather than dishwasher, even top shelf. I didn't test it as I didn't want to ruin it, but I suppose the heat might make the picture come off? Anyway, don't do it. Just hand wash.
The whole set comes in a wonderfully decorative gift box, perfect to pop in a party bag for a gift, or put under the tree as a Christmas present. The box is colourful and fun and I'm sure could be used for other adventures, or even to cut out the pirates and princesses from the other sets to be used in crafts or role play.
The kids also really enjoy having their own plates, cups, bowls and cutlery. It seems to give them a sense of satisfaction and ownership and my daughter will carry  her own plate to the sink too, which is a bonus.
The Good
The Pirate Kids Dinner Set is cute and fun, the kids love it.
It handles being dropped, although I wouldn't try it particularly. I'm sure it could chip or break if you try hard enough.
The set is complete, so you can have a whole themed dinner 'service' which is really nice.
Considering that you get two bowls, a cup and a cutlery set for £10.99, I think it's pretty good value.
The packaging definitely contributes to the gift. It's fun and a whole box of fun is cool
The Bad

Just the fat that you can't choose what you want is frustrating, but it doesn't make the product bad.
Same with the dishwasher - I'd prefer if you could pop it in the top drawer, but alas.
The Verdict

It's a lovely set for just over £10, and makes a good gift, I think. It's also practical for little ones, if you're looking for a birthday or Christmas present that isn't a soft toy or yet another play thing. Its practical and useful, which most parents appreciate!