Philips Avent Via Manual Breast Pump 50% Off @ Tesco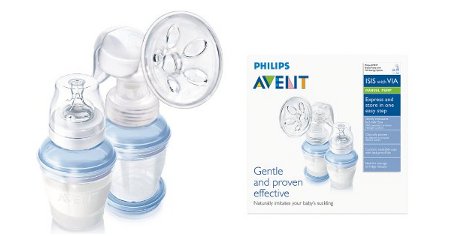 The Philips Avent Via Manual Breast Pump is £15.10 at Tesco, 50% off the £30.21 it normally is. This price is valid until the 2nd of August 2011.
I've never used the Avent breastpump from Philips, so I can't speak for it personally, and I'm more of an electric pump fan anyway, but according to the reviewers on Amazon, it's a very effective pump. While one works better for one person than another, it's great to see reviews such as "This Avent manual pump is brilliant, it's easy to use, silent and discreet and easy to dismantle and clean. Best of all is how well it works - I was amazed at how quickly I could express a bottle-full of milk! I totally recommend this pump."
Avent claim that this pump has patented soft massage cushions that trigger natural let down and another Amazon reviewer confirms "This pump is very good at getting a let down reflex. The vacuum that builds up is then very efficient at expressing milk."
Included in the box you'll find the pump, VIA storage containers for safe storage and transport, leak proof twist on lid, and an adapter for expressing and feeding.
Thanks to tristar from HUKD for pointing us in the direction of this deal