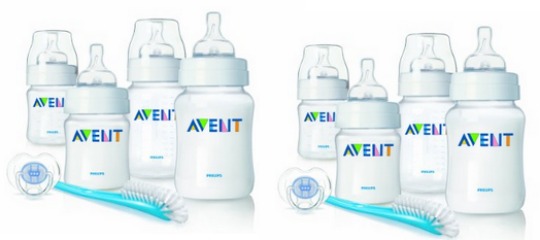 Choosing bottles for feeding your baby can be a real tricky choice, you don't want anything to exasperate colic etc. Avent are one of the main brands out there and have a super reputation so the are certainly a good option. Avent tend to be a bit pricier than other brands so getting them on offer is the way to do. We have found a good deal on the Philips Avent Classic Newborn Set at both Argos and Amazon. If you want to collect it yourself, buy it for £13.99 from Argos, but if you need home delivery then it's worth paying that 1p more and getting it for £14 delivered from Amazon.
So what does the Philips Avent Classic Newborn Set contain? You get two 125ml Classic bottles with newborn-flow teats, two 260ml bottles with slow-flow teats, a bottle and teat cleaning brush and a newborn soother (dummy). A good little starter kit for around the £14 mark.
Whether you decant your breast milk into these bottles or you use formula it doesn't matter these bottles will do their job and feed baby without excess air. The teats are designed to prevent this from happening which is thought to be a large contributing factor to colic.
So, if you know someone who is pregnant are you are yourself, then this Philips Avent Classic Newborn Set is most definitely worth a looky.