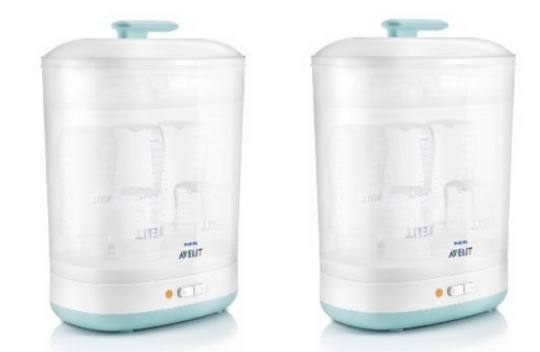 When it comes to electric steam sterilisers most people choose between Philips AVENT and Tommee Tippee. AVENT tends to be the pricier of the two brands. Not if you shop wisely though, get this Philips AVENT 2 in 1 Electric Steam Steriliser from Amazon for only £19.95. As it is over the £10 threshold, you will get FREE Super Saver delivery.
The Philips AVENT 2 in 1 Electric Steam Steriliser can fit both standard and wide neck bottles. It's compact and will fit on the smallest of worktops. Just pop in some water and switch on the unit, natural steam is produced and removes 99.9% of germs and bacteria that may be present on the bottles following hand washing.
You don't get any bottles included with this but you do get a lid, small basket, big basket, user manual and guarantee.
The bottles will stay sterile for up to twenty four hours providing the lid is not opened. This is a good quality to have. I would have certainly pick this AVENT model of steriliser had I not bought Tommee Tippee.