Outdoor Fun Offers @ Lidl from Monday 11th May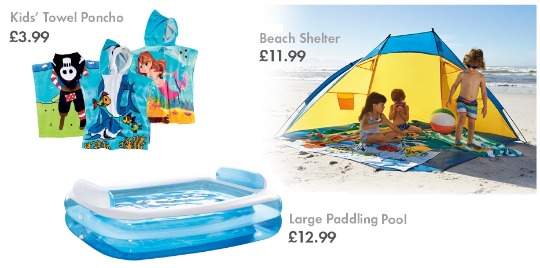 Lidl have some really good buys coming up next week, as they are getting in some "Outdoor Fun" goodies. There are things for the garden, and for the beach or holidays, as well as a few bits for cyclists.
Here's what is coming up:
Beach Shelter - £11.99
Large Paddling Pool - £12.99
'Magic' Bubble Set - £3.99
Throw Toys - £1.99
Kids' Garden Tools - £1.99
Kids' Towel Poncho - £3.99
Aqua Shoes - from £2.99
Kids' Cycle Helmet - £8.99
Adults' Cycle Helmet -£11.99
Cycling Gloves - £3.49
Foot Pump - £3.99
As always with Lidl offers you can't order them online, and they will be in stores subject to availability from Monday 11th May. Loving the look of that huge beach shelter and the paddling pool!