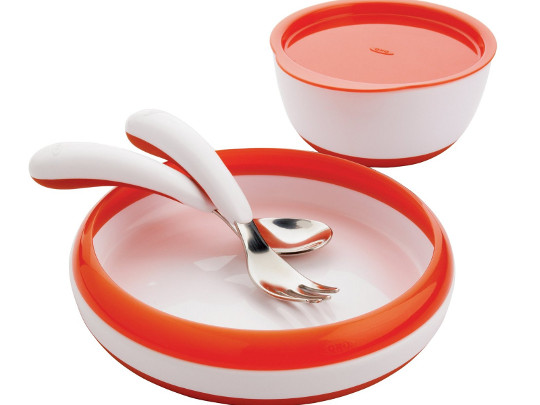 Amazon have 30% off the gorgeous OXO Tot Feeding Set, in orange. It's selling £12.50 instead of £17.87 saving you £5.37 and including free delivery.
The Oxo Tot Feeding set is a lovely weaning range that I reviewed with the help of a PlayPennies mum last year.
The set includes a form, spoon, shallow plate and a bowl with a tight fitting lid. The bowl and plate are weighted to prevent little ones from throwing the crockery about the room - or at least dissuade them a little. The fork and spoon are angled to allow little ones to get them in their mouths on their own and hopefully with most of their food still on them.
Designed for children 12 months and older, the OXO Tot four-piece feeding set will see your toddler through various stages of development since the ring can be removed when your tot has mastered the art of self feeding, allowing it to be used as they grow.
The 360ml bowl features a non-slip weighted base and high walls to make scooping pudding or yoghurt easy. The OXO Tot fork and spoon are perfect for when tots are ready to feed themselves. Generous handles have soft, non-slip grips and are easy to hold while scooping yoghurt or piercing pasta.
The set is even dishwasher safe so you can just pop it in the machine and have it ready for your next meal.