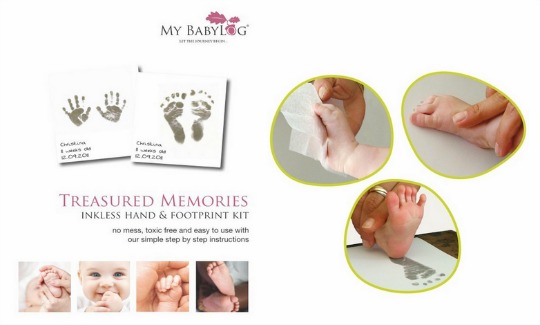 I wish I had seen this amazing product when my daughter was a baby. I remember trying to take hand and foot prints of her at about a week old, the paint went everywhere but the canvas and I ended up in tears that I couldn't get a print so ended up giving up! These Mybabylog Inkless Wipe Hand and Foot Print Kits sound like a dream and at just £4.99 for a kit at Amazon they are a great price too. Definitely worth a go if you have a newborn.
This inkless hand and footprint kit is completely safe, non-toxic and simple to use, as well as being totally mess free. To create your special imprints use our special wipe on your baby's hands and feet and then press on to the special memory paper, lift baby up and see the image magically appear with every intricate detail reproduced.

With the hand and footprint kit it is possible to create approximately 8 baby sized prints with one single wipe. The kit can also be used to create prints from older children too, but you will not be able to achieve quite so many imprints.
Included in the kit is the original Baby Wipe Towelette and Four sheets of special paper 14cm x 21.7cm. The kit is easy to use and safe to use and best of all there is no mess involved! Just think of the lovely presents you could make with this kit, just in time for Christmas.
Home delivery is free if you spend over £20 or are an Amazon Prime member, otherwise delivery starts from £3.30.