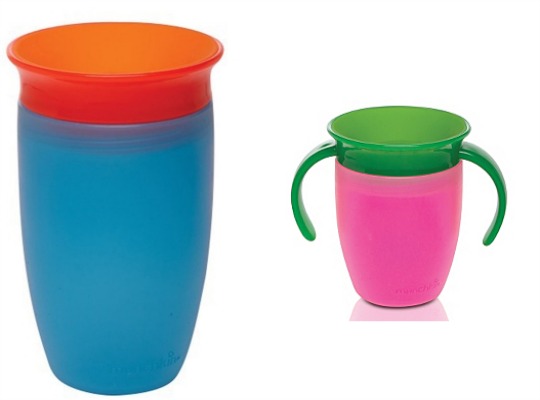 A couple of months back we discovered a very cool training cup for our little Daniel. It looks pretty much like a normal tumbler but imagine the mess of giving your wee one a drink out of a regular cup. Messy! This Munchkin Miracle 360 Training Cup is non spill, when they say non-spill they actually minimal mess. Daniel manages to press on it and wet himself if he is in that sort of mood.  They are the best training cup we have ever used. Priced at just £4.97 over at Asda George (one style is OOS) and in stock at Toys R Us for £4.99 each.
The Munchkin Miracle 360 Training Cup has no spout which means it should be better for those tiny teeth. As the cup boasts a 360 degree drinking edge, little ones can sip from any angle.
As mentioned before it's apparently completely non-spill. This is not true but it's almost perfect, after all your tot needs to be able to actually drink from it.
These cool cups come in two different designs: one with handles* for babies aged six months plus and one without for tots aged twelve months and over.
You can collect your cups for FREE from an Asda or Toys R Us store for FREE, depending on who you buy from of course. Asda George charge £2.95 for delivery and Toys R Us charge a horrendous £4.95.