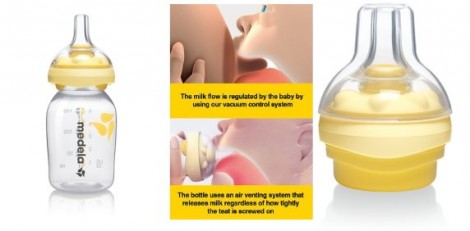 Nipple confusion is a real concern for breastfeeding mothers who do need to sometimes express for bottle feeding. Once breastfeeding is properly established, this shouldn't be a problem, except in our case, where my daughter actually refused, and continues to refuse the bottle.
Which is where the Medela Calma comes in. The Medela Calma allows babies to retain natural feeding behaviour, meaning they can drink, breathe and pause as they do at the breast. Unlike most commercial bottle teats, one size will see your baby through from birth to weaning, just as in nature.
What makes this teat different is it's elongated shape which takes the same shape as the nipple in the mouth,and it's various parts which cause a vacuum. According to the latest research at the University of Western Australia, babies need to create suction for milk to flow, which is what happens with breastfeeding. Regular bottles do not require much 'vacuum', so feeding from a bottle is 'easier', which is why babies often prefer it, once introduced, to bottle feeding.
We introduced the Calma quite late, so didn't really need it for milk feeds, but it was still the best option for water for a long time, as it doesn't involve wet floors, clothes and toys. Should there ever be an addition to the family, we will introduce it much earlier, to allow Daddy to help with some of the feeds, while still providing the best nutrition possible.
The Medela Calma Bottle from Mothercare is £11.99, but with £4.95 for delivery if your order is under £30.00, the free delivery at Amazon makes the £14.99 cheaper.