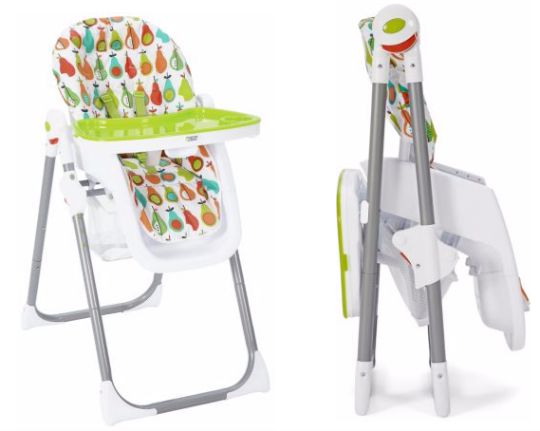 I can't believe how expensive highchairs are these days, I've just been shopping around and you can easily spend £100+ on one! Crazy when you know you need one, yet only need it a few times a day. Over at Argos right now they have a great deal on a Mamas & Papas Pesto Pear Highchair, it is now half price at £49.99 instead of £99.99. A great price for such a well known brand and I love the name- 'Pesto Pear' ha! :-D
My daughter had a Mamas & Papas high chair quite similar to this one, I loved the fact it folded quite flat, perfect for storing. It was also so easy to clean as the tray comes off, such a great feature, so much easier to just stick in the washing up bowl! On this model the seat can also be removed for cleaning, perfect!
The seat is fully adjustable and has six different height positions and three reclines. Another bonus feature is the basket underneath the chair, great for collecting all those dropped bits of food or for storing bibs and wipes underneath. I love the funky pear print design, its unisex and looks very trendy.
You can Reserve and Collect this item for FREE from your local Argos or can have it delivered to your door for £3.95