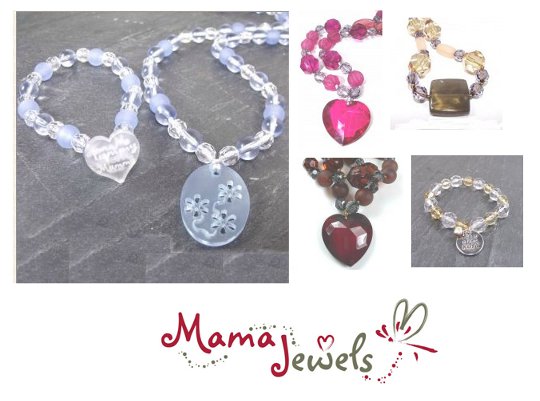 While certainly not an essential to a good breastfeeding relationship, a breastfeeding bracelet and necklace can be a big help in establishing and continuing breastfeeding and Mama Jewels have a lovely range of beautiful jewellery to suit the occasion.
What do you use them for?
Well, in the first six weeks or so of breastfeeding, breast milk reservoirs in the breasts and is readily available. It can be really hard when your breasts are full all the time to remember which side you last fed from, but doing so is quite important as every time you feed your baby, your body produces more milk, thereby establishing how much milk you need and how often. Around six weeks, the reservoir 'dries up' and milk becomes supply and demand, and your body now knows how much your baby needs (incidentally, this is when many women incorrectly think their milk has dried up.) For those first six weeks, having a bracelet that you can wear either on the side that you've just fed from, or need to feed from next can be invaluable – especially for night feeds.
The breastfeeding bracelet serves this purpose perfectly – but I did find it a bit small for my hand and ideally you want something that slips off and on again without too much fuss. While the heart adds to the prettiness, I found it a hindrance – but I do have larger hands than the average woman, so it's probably just me.
I have two Mama Jewels necklaces – one in pink and one in blue and they are both beautiful.
They're particularly handy when baby is a little older and starts twiddling and pinching and grabbing during nursing. It can be extremely painful and with my daughter I ended up so bruised in the throat and chest area, my husband would only leave the house with me if I wore a polar neck or scarf! A necklace gives the child something to focus on, pull on, tug on and twirl without leaving bruises. Bonus.
Mam Jewels guarantee that their jewellery is baby-proof and they're so sure of this fact that they'll give you your money back if baby manages to break your jewellery. They are strength tested, and so far the jewellery has a 100% track record. These sets can also be washed and sterilised, and even go through the dishwasher (although secure it tightly!) if they need a thorough clean.
The components that make up Mama Jewels are non-toxic and have been tested in accordance with UKAS and Toy Standards.
All round, these are great, affordable, lovely and fab to wear and use.