MAM Self-Sterilising Anti-Colic 15pc Starter Set £17.99 Delivered @ Argos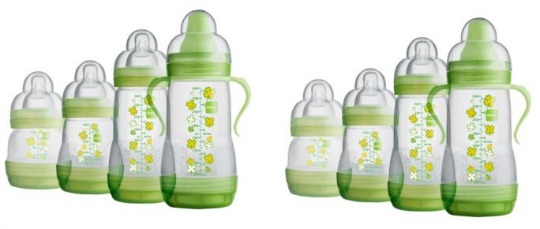 You know when people say that you learn something every day? It's true. You can now get self-sterilising baby bottles. I am impressed.
This MAM anti-colic self-sterilising set is only £17.99 delivered from Argos at the moment. I found it half price at £14.99 from Babies R Us but its delivery only at £4.95 so this is the cheapest option.
Baby bottles are not cheap, well not if you want good ones. It's even worse if you require anti-colic ones because as soon as they label them as such, the price rockets.
In this set you get 15 pieces altogether, two small 130ml bottles, two medium 160ml bottles, four large 260ml bottles, four sealing discs, a soft spout, a handle and a dummy. Not too bad at all for the price.
That's not just it though, wash these thoroughly then stick them into the microwave for 3 minutes and that's them sterilised. Which, I am assuming means no need for a steriliser. Think of the saving,there alone.  If you are dubious about how good these are then read the reviews on the Argos page. This set is rated at 4.5 stars.
Like I mentioned before, all the bottles are anti-colic. If you have had a colicky baby then you know how hellish it is for baby and for you. Anything that can help rectify that is worth every penny in my eyes.
Delivery is free, so why not have look if you are looking for an affordable baby bottle feeding starter kit.