Lindam Door Bouncer £11 Delivered @ Amazon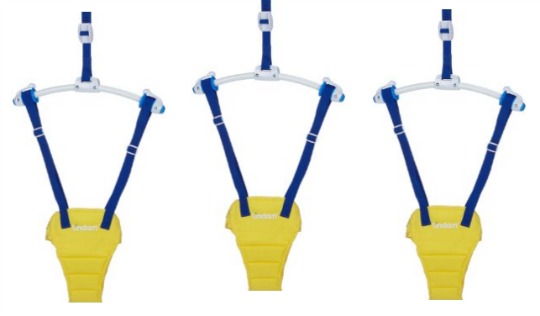 A word of warning, these sold out very,very quickly in the Mothercare sale at £10. I should know I tried to bag one myself. Here is your chance to grab one for £11 delivered from Amazon.
These are also available for £11 at Tesco Direct, delivery is not included but if you have enough Clubcard points then you may be better off getting one from here. They are included in the Clubcard Boost deal.
They are currently £20 at Asda and £19.99 at Sainsburys. Tesco normally sells these at £16.50 but they have £5.50 off just now. £11 is a good price for this.
The thing about these bouncers that makes them so popular is that they require no faffing with screwing into the wall. They just simply attach to the top of your door frame by a safe, tension clamp.
Lindam are renowned for their safety products and they pride themselves at the fact, that these are tested up to one million bounces. It's fully supportive of your child and maintains their natural posture.
The seat is machine washable, thank goodness. Let's face it, it will get covered in puke and slavers. It can be used as soon as your baby can hold his/her head up and will take up to 12kg.
The straps are adjustable and there's a back buckle so that baby does not fall out. The seat is padded adequately so that your little one does not get a sore bum. The bouncer itself is height adjustable so you can shorten it as baby grows.
I must admit, I love watching babies in these. Boing, boing, BOING! It's amazing how excited they get. These bouncers do look like good fun.
Remember, these sold quickly at £10 and you are getting them for £11 delivered. If you want one don't hesitate.